'Mic Dispatch' episode 5: Sasha Velour is reimagining queer culture through drag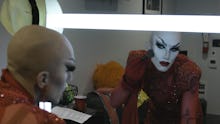 "Let's change shit up. Let's get inspired by all this beauty — all this beauty. And change the motherfuckin' world," RuPaul's Drag Race season nine winner Sasha Velour said immediately after she was crowned in 2017.
In the year since, Velour has toured the world and offered her message that drag can be — and often inherently is — a tool for social change. Though her message has just recently reached the global stage, it's an ethos the Fulbright scholar has lived by forever and one that informed the creation of her monthly show Nightgowns in 2015. The show was originally conceived as a diverse showcase of drag talent throughout Velour's hometown of Brooklyn, New York, but over the the years, it has grown to feature queens from all over.
"My goal is to co-opt the privilege that I have and use it as a tool for changing the system," Velour said an interview. "To not just bring fabulous queer people front and center in everyone's imagination, but actually shifting the whole nature of our community so that it is safe and uplifting."
I tagged along with Velour during the final dress rehearsal and the hours leading up to her latest Nightgowns performance — and her final one as reigning Drag Race queen. I chatted with Johnny Velour, Sasha's partner and managing director of the House of Velour, as well as Nightgowns regulars Elle McQueen, Untitled Queen, Daphne Always, Vander Von Odd and Neon Calypso to get a sense of the diversity of the cast.
"It's not hard at all to cast the best drag show in the world and not be focused on cis[gender] white drag queens," Sasha said. And thus Nightgowns has positioned itself as one of the preeminent hotspots for showcasing the best of drag — a drag world devoid of any barrier of entry.
To catch future episodes of Mic Dispatch, follow Mic Dispatch on Facebook Watch. For more stories about the show, visit the Mic Dispatch collections page.