Crystle Galloway died after four paramedics denied her help. Now, her family wants them fired.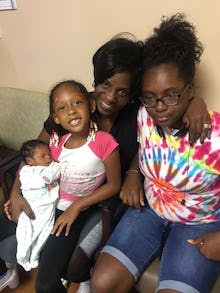 Crystle Galloway, 30, died at Tampa General Hospital in Tampa, Florida, on July 9, five days after Hillsborough County paramedics declined to transport her in an ambulance when she showed signs of a stroke. Galloway's mother, Nicole Black, ended up driving her to the hospital herself, according to the Tampa Bay Times.
"My daughter just passed, so I'm still trying to mourn," Black said in a phone interview Monday.
Now, Galloway's family is advocating to get the four paramedics fired. In a petition posted to OrganizeFor — a campaign website run by the civil rights organization Color of Change — Galloway's mothers, Nicole and Lisa Black, call the paramedics' failure to help Galloway an act of "racism."
"This is racism," the petition reads. "When the paramedics came, they took one look at our skin color and decided they didn't want to touch her. We had to rush her ourselves but it was too late."
Hillsborough County officials are planning a pre-disciplinary hearing for Tuesday, where the paramedics will respond to allegations and provide additional information for investigators before disciplinary action is taken, according to the county website. County Administrator Mike Merrill placed all four on paid leave July 20, calling the treatment Galloway received "unacceptable," the Tampa Bay Times reports.
According to 911 recordings released by Hillsborough County officials on Friday, Black told a dispatcher July 4 that her daughter had undergone a cesarean section a few days prior, and had passed out and was drooling.
"My granddaughter called me and said, 'Grandma something's wrong with mommy'," Black, who lived next door to Galloway, told the dispatcher. "So I ran over ... and I found her in the bathroom, lips swollen, drooling from the mouth."
Dispatchers gave paramedics the code, "Stroke (CVA)/ Transient Ischemic Attack (TIA)" to classify Black's request for help, according to Merrill's statement. Lt. John "Mike" Morris, fire medic Andrew J. Martin, fire medic Justin Sweeney and acting Lt. Cortney Barton, were dispatched to the scene.
The paramedics reportedly carried Galloway downstairs on a stair chair and put her in her mother's car, CNN reported. They later told investigators that Black had wanted to take her daughter to the hospital herself, citing information given to them by the local sheriff's deputies.
But the paramedics never had Black sign an informed consent form, which would have been required for them to allow her to drive her daughter. Nor did they check Galloway's vital signs, according to Merrill's statement, the Times reports.
"I had to beg them to help me," Black said in a complaint to the Hillsborough County fire and rescue dispatch supervisor in a subsequent recorded call around 6:52 p.m. on July 4. "Not only did I have to beg them to help me, when we got downstairs and I asked them to take us to the hospital they told me, I 'couldn't afford it.' And they put her in my car."
According to the Times, Hillsborough County Fire Rescue Medical Director Michael Lozano issued a statement condemning the paramedics' actions.
"I cannot trust these individuals to work under my medical license," Lozano said. "I feel they do not meet the minimum standards set by myself and the department."
Derrik Ryan, president of the the International Association of Firefighters Local 2294, the union representing the paramedics, also responded to news of the incident.
"We're not in the business of talking people out of going to the hospital," Ryan told the Times July 25, saying the paramedics failed by listening to the sheriff's deputies. "That's what we did wrong – we bought into that narrative. I certainly don't see that as a firing offense."
Galloway is survived by her newborn son and two daughters. Black launched a GoFundMe campaign to pay for legal representation for her grandchildren on July 18, with a goal of $5,000. As of Tuesday morning, the campaign has raised more than $19,000.
Galloway's case is a reproductive justice issue, according to Elizabeth Dawes Gay, co-director of the Black Mamas Matter Alliance, an organization working to improve the reproductive health outcomes for black women. Black women face a three-to-four times higher risk of pregnancy-related death than white women, according to a 2017 CDC report.
"What happened to Crystle Galloway is an unfortunate example of the various ways racism and classism harms black mamas," Gay said in an e-mailed statement Monday. "It shows how little regard there is for the lives, safety, and health of black women. We deserve better than the gross negligence of these paramedics."