Mic Daily: Rudy Giuliani's bizarre TV appearances, the latest 'Who Is America?' episode and more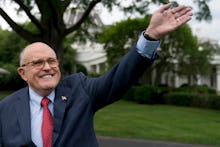 Welcome to Mic Daily: Mic's newsletter that cuts through the noise and lands in your inbox every weekday. We carefully curate each edition to send you a cross section of our most vital stories of the day. Want to receive this as a daily email in your inbox? Subscribe here.
Want more entertainment news in your inbox instead? Sign up for Hype Daily — Mic's morning entertainment roundup. It's got all the news you need to start your day.
In a Monday morning media blitz, Rudy Giuliani continued to move the goal post on special counsel Robert Mueller's investigation into Russia's interference in the 2016 presidential election and whether the Trump campaign had any involvement in it, saying collusion is not a crime.
The third episode of Sacha Baron Cohen's satirical cringefest Who Is America?aired Sunday on Showtime. In true Cohen fashion, it featured four segments in which Cohen, deep in character, exposed his interview subjects' worst impulses or humiliated himself. Or both.
Former Trump campaign chairman Paul Manafort's first of two trials begins Tuesday. Prosecutors from special counsel Robert Mueller's team will tell a jury in Alexandria, Virginia, that Manafort illegally laundered more than $30 million in money earned as a political consultant for pro-Russian officials in Ukraine, and hid that money from the IRS.
The cast of the Guardians of the Galaxy films has come out in full support of director James Gunn, who was recently fired by Disney over offensive jokes he made on Twitter years ago. On Monday, cast member Zoe Saldana shared an open letter from the cast, expressing their "love, support and gratitude" for Gunn, as well as their hope to work with him again in the future.
In 1966, Oakland, California, became the birthplace of one of the most influential activist organizations in U.S. history — the Black Panthers. They rallied against police brutality and food insecurity, making the city a locus for social justice.
Half a century later, the spirit of activism is flourishing in Oakland's dining culture.