Hype Daily: Alex Trebek might be retiring, Beyoncé takes over 'Vogue' and more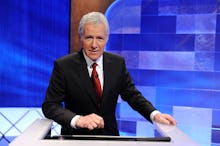 Welcome to Hype Daily, Mic's morning entertainment roundup. Here's everything you need to catch up on in the entertainment world and what to look forward to today. Want to receive this as a daily email in your inbox? Subscribe here.
Good morning from Hype reporter Anna Swartz.
Apparently Beyoncé is making all of the choices for her 'Vogue' cover in the upcoming September issue
Vogue's annual September issue is a very big deal — and this year Beyoncé will not only grace the cover, but she'll also have "unprecedented control" over her appearance in the magazine, HuffPost reported Monday.
According to unnamed sources, Vogue editor-in-chief Anna Wintour ceded control to Bey, who will have "full control over the cover, the photos of her inside the magazine and the captions, which she has written herself and are in long-form." Needless to say that's unusual for a cover subject. But apparently Bey is making her own choices, including passing on a sit-down interview with Vogue and hiring her own choice of photographer to shoot the cover: 23-year-old Tyler Mitchell. Mitchell is, somewhat shockingly, the first black photographer to shoot a Vogue cover in the magazine's 126-year history.
Alex Trebek might leave Jeopardy!
What is...the end of an era? Jeopardy! host Alex Trebek signaled he's ready to pass the torch to a new gameshow host. In an interview with TMZ's Harvey Levin, host of OBJECTified on Fox News, Trebek said there was a good chance he would retire at the end of his contract in 2020. He had some suggestions as to who should take over the show after he leaves, including sports announcer Alex Faust or CNN legal analyst Laura Coates. But no matter who hosts Jeopardy! next, it just won't be the same without Trebek.
Kid Fury is working on an HBO comedy with Lena Waithe
Variety reported Monday YouTuber, comedian and podcast host Kid Fury is working on a comedy series for HBO, and Lena Waithe is set to executive produce. According to the report, the show will be "a surreal dark comedy" about a young gay black man in New York City, trying to live his life despite his clinical depression. Kid Fury is best known to some as the cohost of the culture podcast The Read, which he hosts alongside Crissle West.
A new documentary about sexual abuse in the gymnastics world is on the way
Speaking of HBO projects, Deadline reported Monday the network has acquired the documentary At the Heart of Gold: Inside the USA Gymnastics Scandal. The documentary explores sexual abuse within the sports organization and the revelation that Larry Nassar, an official doctor for USA Gymnastics, was systematically abusing girls and women — many of whom came forward publicly to share their stories. The doc is set to air some time next year.
Put this on your radar: Rest in Power: The Trayvon Martin Story
The first episode of Rest in Power: The Trayvon Martin Story premiered on the Paramount Network Monday, with five more episodes to come in the docuseries. Executive produced by Jay-Z, the series examines the systemic racism at play in the 2012 death of Martin, a Florida 17-year-old who was walking home with a bag of Skittles when he was shot and killed by George Zimmerman. Martin's death and Zimmerman's subsequent acquittal helped launch the Black Lives Matter movement.
"People have to really see this," Jay-Z told the New York Times Sunday. "They have to see it again and they have to see it with facts and details, because people don't really believe it."