Today in Trump's America: Paul Manafort's first trial begins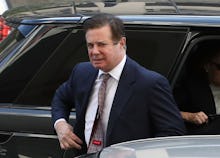 Welcome to Mic's daily read on Donald Trump's America. Want to receive this as a daily email in your inbox? Subscribe here.
Good morning from Emily Singer at Mic.
Check out Mic Dispatch, Mic's new show reporting on the problem-solvers and the provocateurs in our changing world. Subscribe here for alerts on new episodes airing Tuesdays and Thursdays, 8 p.m. Eastern, on Facebook Watch.
Here's what's happening in Trump's America:
• Trump begins his day at 11:15 a.m., when he'll sign a career and technical education bill.
About last night: U.S. intelligence agencies say North Korea is working on new missiles
So much for Trump's claim that he "solved" the North Korean nuclear threat.
The Washington Post reported Monday night that U.S. spy agencies see signs North Korea is building new missiles at the same plant it used to build the intercontinental ballistic missiles that can reach the U.S.
This news comes after Trump claimed his meeting with North Korean leader Kim Jong Un was so successful he ended the threat of nuclear war with the Asian nation.
"When I came into this job, it looked like war — not because of me, but because — if you remember the sit-down with Barack Obama, I think you will admit this, he said the biggest problem that the United States has, and by far the most dangerous problem — and he said to me — that we've ever had, because of nuclear, is North Korea," Trump said June 15, after his meeting with Kim. "Now, that was shortly before I entered office. I have solved that problem."
Yet activity at North Korean missile and nuclear facilities detected by Trump's own spy agencies shows the problem is still ongoing. According to the Washington Post's report, North Korea intends to say it fully denuclearized even though it still has missiles.
If North Korea is still building missiles and runs more missile tests, it will be yet another embarrassment on the world stage for Trump, who has been panned for his cozy meetings with dictatorial leaders of American adversaries.
Today in Trump's America: Paul Manafort's trial begins
Former Trump campaign chairman Paul Manafort stands trial starting Tuesday on 32 counts of bank fraud and filing false tax returns as part of an alleged scheme to illegally launder $30 million in political consulting fees from a pro-Russian leader in Ukraine.
While special counsel Robert Mueller's team has already secured multiple guilty pleas from others indicted in the investigation, Manafort is the first person it will prosecute in court. And given the onslaught of attacks Mueller's team has faced from Trump and Trump allies, the stakes are high for Mueller's team to secure a conviction.
The trial is expected to last at least three weeks, with jury selection set to begin Tuesday in federal court in Alexandria, Virginia.
Don't expect Trump to come up much in the trial. Prosecutors told judge T.S. Ellis III they will only bring up Trump when they argue Manafort allegedly worked out a deal with a bank chairman to be able to file false loan information in exchange for a position in the Trump administration.
However while Trump's name won't come up much, the fact that the former head of his campaign is on trial will serve as a constant reminder to the public of the legal cloud hanging over Trump's head.
If Mueller's team secures a conviction, it will further legitimize Mueller's probe.
This isn't the only trial Manafort will face.
After this one wraps, a second trial is scheduled for September for a slew of bombshell charges against Manafort related to his work in Russia and Ukraine, including conspiracy against the United States, failure to register as a foreign agent, money laundering, lying to federal investigators and obstruction of justice. That trial is slated to take place in federal court in Washington, D.C.
Capitol Hill happenings: The boy who cried wolf
Sen. Rand Paul (R-Ky.) continued to diminish the credibility of his threats Monday, when he announced he will vote to confirm Trump's Supreme Court nominee Brett Kavanaugh.
Paul's announcement came after he garnered big headlines for his claim two weeks ago that he was "honestly undecided" on whether he'd vote for Kavanaugh, citing major concerns with Kavanaugh's record on privacy.
"Kavanaugh's position is basically that national security trumps privacy," Paul told Politico. "And he said it very strongly and explicitly. And that worries me."
Yet after meeting with Kavanaugh, Paul announced he's putting his concerns aside and will vote for Kavanaugh anyway.
"After meeting Judge Kavanaugh and reviewing his record, I have decided to support his nomination," Paul tweeted Monday.
"I have expressed my concern over Judge Kavanaugh's record on warrantless bulk collection of data and how that might apply to very important privacy cases before the Supreme Court," Paul continued. "In reviewing his record on other privacy cases like Jones, and through my conversation with him, I have hope that in light of the new precedent in Carpenter v. United States, Judge Kavanaugh will be more open to a Fourth Amendment that protects digital records and property."
This is not the first time Paul has said he had serious concerns that could keep him from voting for a Trump nominee, only to turn around and vote for that person. In April, Paul said he wouldn't vote to confirm now-Secretary of State Mike Pompeo only to abandon that position and vote for Pompeo anyway.
"President Trump believes that Iraq was a mistake, that regime change has destabilized the region, and that we must end our involvement with Afghanistan. Having received assurances from President Trump and Director Pompeo that he agrees with the President on these important issues, I have decided to support his nomination to be our next Secretary of State," Paul tweeted in April, announcing his change of heart on Pompeo's nomination.
And the rest…
#MeToo meets FEMA: A top aide at the Federal Emergency Management Agency has been accused of overseeing a rampant culture of sexual harassment, including accusations he hired women as potential sexual partners for male employees, the Washington Post reported. The official, Corey Coleman, resigned from his role as personnel chief at the agency two weeks ago, according to the Washington Post's report.
More tax cuts for the rich: Treasury Secretary Steve Mnuchin is considering unilaterally making another massive $100 billion tax cut for the wealthy by cutting the capital gains tax, the New York Times reported. Further cutting taxes for the rich would give Democrats ammunition in the midterms.