Why Bernie Sanders' top campaign strategist is caught up in the Paul Manafort trial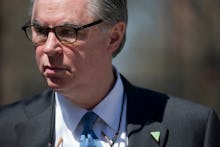 Paul Manafort's first trial on charges of bank fraud and filing false tax returns began on Tuesday, and while the case will serve as a constant reminder that Trump's one-time campaign chairman has deep ties to Russia, Sen. Bernie Sanders (I-Vt.) will also tangentially be drawn into the unfolding drama.
That's because Tad Devine, a senior strategist on Sanders' 2016 presidential bid, will be called as a witness for the trial — which is expected to run at least three weeks.
Devine and Manafort worked together on the 2010 campaign of the now-former Ukrainian President Viktor Yanukovych, a pro-Russian leader who fled the country in 2014 after the Ukrainian revolution.
Devine's consulting firm Devine Mulvey Longabaugh, maintains that they did nothing illegal in their work with Manafort on Yanukovych's campaign. The firm says they are not at risk of legal jeopardy, according to a statement provided to the Washington Post.
In the statement, Devine Mulvey Longabaugh says special counsel Robert Mueller asked Devine "to assist in the prosecution of their case against Paul Manafort regarding his firm's work on media consulting on past political campaigns in Ukraine."
"We have been assured by the special counsel's office that we have no legal exposure and did not act unlawfully," the firm said in the statement to the Washington Post. "After the administration of the presidential candidate we had worked for arrested his political opponent [Yulia Tymoshenko in 2011], we quit. We then declined additional offers to work on his later campaigns."
Still, the fact that Devine is caught up in the trial at all puts him in the news in a negative light.
Devine has worked in Democratic politics for years, including as a top strategist for Al Gore and John Kerry's failed presidential bids in 2000 and 2004, respectively. In November 2014, he signed on to help Sanders with his 2016 presidential bid, which he made a killing off of. A review from Slate found that Devine shared at least $10 million worth of commissions with a Virginia-based ad firm that placed some of the millions in television advertising Sanders ran during his failed primary bid.