Facebook says it found dozens of fake pages trying to influence the 2018 midterms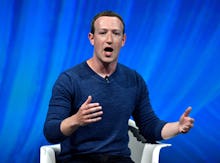 Facebook has found dozens of fake accounts and pages attempting to influence the 2018 midterm elections, the company announced Tuesday.
In a statement, Facebook said it had identified 32 pages and accounts on both Facebook and Instagram — which the company also owns — that were "involved in coordinated inauthentic behavior."
According to the statement, Facebook first discovered the pages and profiles about two weeks ago and removed them Tuesday morning after completing an initial investigation. Facebook has sent the information to both U.S. law enforcement and Congress.
"In total, more than 290,000 accounts followed at least one of these pages, the earliest of which was created in March 2017," Facebook said. "The latest was created in May 2018."
The pages with the most followers were "Aztlan Warriors," "Black Elevation," "Mindful Being" and "Resisters."
According to Facebook, the pages ran roughly 150 ads on the social media sites at the cost of approximately $11,000. It also said some of the pages' behavior was "consistent" with what it saw from Russia's Internet Research Agency before and after the 2016 election. Special counsel Robert Mueller later indicted the IRA for its "strategic goal to sow discord in the U.S. political system."
However, it's still unclear whether the latest pages were directly tied to Russia.
"These bad actors have been more careful to cover their tracks, in part due to the actions we've taken to prevent abuse over the past year," Facebook said. "For example, they used VPNs and internet phone services, and paid third parties to run ads on their behalf. As we've told law enforcement and Congress, we still don't have firm evidence to say with certainty who's behind this effort."
Facebook said it will work with law enforcement to understand where these pages came from and will continue to monitor its platform.
"We don't have all the facts, but we'll work closely with others as we continue our investigation," Facebook said. "We hope to get new information from law enforcement and other companies so we can better understand what happened — and we'll share any additional findings with law enforcement and Congress."