Los Angeles prosecutors say they won't pursue sex abuse charges against Les Moonves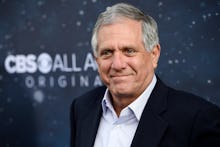 Prosecutors in Los Angeles told NBC News they won't bring sex abuse charges against CBS CEO Les Moonves over allegations of abuse dating back to the 1980s, because the statute of limitations has expired, NBC News reported Tuesday. A woman reportedly went to police in February to report three incidents of alleged sexual abuse from the '80s, according to NBC News. The woman's name has not been released.
Prosecutors were reportedly considering bringing three criminal charges against Moonves: battery, indecent exposure and forced oral copulation. One of those, forced oral copulation, is a felony, NBC News reported.
The news that the unidentified woman went to police earlier this year comes days after the New Yorker detailed the sexual harassment, misconduct and assault allegations against Moonves. In the report, six women spoke to the New Yorker about their experiences, describing a pattern of harassment and retaliation. One of them, actress and writer Illeana Douglas, described Moonves holding her down during what was supposed to have been a work meeting, and "violently kissing" her.
In a statement to the New Yorker, Moonves denied any allegations that his behavior went beyond "advances," saying, "I recognize that there were times decades ago when I may have made some women uncomfortable by making advances. Those were mistakes, and I regret them immensely. But I always understood and respected — and abided by the principle — that 'no' means 'no,' and I have never misused my position to harm or hinder anyone's career."
In a statement on Twitter on Friday, Moonves' wife, CBS personality Julie Chen, expressed support for her husband, calling him a "kind, decent and moral human being."
It's unclear whether the woman who went to authorities in February is one of the accusers who spoke to the New Yorker. After the story was released on Friday, the New York Times reported Sunday that the board of the CBS Corporation "spent most of the weekend" deciding how to respond to the allegations against its chief executive. The board announced Monday it would hire outside counsel to conduct "an independent investigation." It did not specify whether any other actions would be taken or whether Moonves will continue his day-to-day work while the investigation is ongoing.