'Mic Dispatch' episode 5: Skid Row; Sasha Velour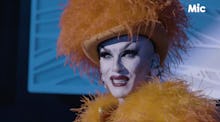 On this edition of Mic Dispatch, we visit the infamous Skid Row in Los Angeles County, where the homeless population has surged 75% in recent years to more than 55,000 people. Competition for living space on the crowded sidewalks is fierce and gangs are acting as unofficial landlords, charging rent for tent space on the overcrowded streets.
Next up, Mic profiles RuPaul's Drag Race season nine winner Sasha Velour, who has toured the world and offered her message that drag can be — and often inherently is — a tool for social change. We visit her monthly New York-based show, Nightgowns, which was conceived as a diverse showcase of drag talent.
Check out episode 5 of Mic Dispatch above — only on Facebook Watch.
To catch future episodes of Mic Dispatch, follow Mic Dispatch on Facebook Watch. For more stories about the show, visit the Mic Dispatch collections page.