Mic Daily: Why Bernie Sanders' campaign strategist is caught in the Manafort trial and more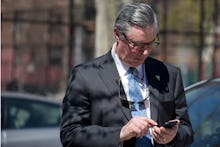 Welcome to Mic Daily: Mic's newsletter that cuts through the noise and lands in your inbox every weekday. We carefully curate each edition to send you a cross section of our most vital stories of the day. Want to receive this as a daily email in your inbox? Subscribe here.
Check out Mic Dispatch, Mic's new show reporting on the problem-solvers and the provocateurs in our changing world. Subscribe here for alerts on new episodes airing Tuesdays and Thursdays, 8 p.m. Eastern, on Facebook Watch.
Paul Manafort's first trial on charges of bank fraud and filing false tax returns began Tuesday, and while the case will serve as a constant reminder that Trump's onetime campaign chairman has deep ties to Russia, Sen. Bernie Sanders (I-Vt.) will also tangentially be drawn into the unfolding drama.
Crystle Galloway, 30, died at Tampa General Hospital in Tampa, Florida, on July 9, five days after Hillsborough County paramedics declined to transport her in an ambulance when she showed signs of a stroke. Galloway's mother, Nicole Black, ended up driving her to the hospital herself, according to the Tampa Bay Times.
"My daughter just passed, so I'm still trying to mourn," Black said in a phone interview Monday.
Prosecutors in Los Angeles told NBC News they won't bring sex abuse charges against CBS CEO Les Moonves over allegations of abuse dating back to the 1980s, because the statute of limitations has expired, NBC News reported Tuesday. A woman reportedly went to police in February to report three incidents of alleged sexual abuse from the '80s, according to NBC News. The woman's name has not been released.
In a statement, Facebook said it had identified 32 pages and accounts on both Facebook and Instagram — which the company also owns — that were "involved in coordinated inauthentic behavior."
This spring, Amplify Georgia had a problem. The first company that the nonprofit had contacted to fly its banner over the Atlanta Jazz Festival refused service. They were left scrambling, but that didn't stop the organization from finding another willing pilot — and so, on two separate occasions, for four hours at a time circling above the festival on May 26 and May 27, their banner flew. It read: "Abortion is OK!"