Is the city of Denver doing enough to avert its affordable housing problem?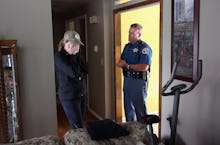 When a new property management company took over her apartment building, Denver native L.J. Harker had to choose between moving or coming up with nearly $6,000 to cover her new security deposit and first/last month's rent to stay in her home. The rent for the three-bedroom apartment she shared with her four children jumped from $1,300 to $1,800 overnight, despite the fact she had resided in the building for 4 1/2 years.
Harker has long witnessed the challenges of the Denver housing market. She was previously employed as the program development and grants coordinator for the Epworth Foundation, a nonprofit organization working with a variety of issues affecting families. As someone who worked with the homeless, she was suddenly on the verge of homelessness herself. She eventually moved in with family across town — a 45-minute commute from work and her children's school.
"Regardless of how well the adults in the household get along, I would like to have a place of my own," Harker said in an interview with Mic.
Harker's family isn't the only Denver household feeling the crunch. Her home is among the 50% of renter households in the Denver metro area that put more than 30% of their income toward housing, according to a recent survey from the Joint Center for Housing Studies at Harvard University. In addition, one-quarter of Denver renters are severely burdened, with housing costs eating up more than half of their income.
Since 2010, Denver's economic boom and low unemployment rate have attracted more than 100,000 new residents. But not everyone has benefited equally from such growth. While the population has exploded, the number of available housing units has not, resulting in an increasingly unaffordable — and for many low-income residents or first-time homebuyers, inaccessible — real estate market. Real estate software company RealPage calculated that Denver rents increased by almost 50% between 2010 and 2017.
Denver is the latest example of a U.S. city on the brink of an affordable housing crisis. Other metro areas, such as Seattle and San Francisco, have already experienced similar growing pains. But while housing prices have soared, wage growth has remained modest. According to data published by mortgage information website HSH, Denver is the now the eighth-most expensive city in the United States for prospective homebuyers.
HSH estimates that households need a minimum income of $87,222 with a 20% down payment to buy into the market, an increase of nearly 12% over 2017. As of July, the average sold price for a single-family home exceeded $500,000, according to market data from the Denver Metro Association of Realtors.
Denver's residents and community organizations have looked to city government for solutions. Mayor Michael B. Hancock raised the specter of affordable housing during his State of the City address on July 16, announcing the city would invest $40 million in affordable housing in 2018.
"We will invest more money in one year than ever before to deliver housing Denver families can afford," Hancock said.
But despite these public statements, many residents, community partners and former city officials feel Denver hasn't prioritized affordable housing. Erik Soliván, former executive director of the city's Office of Housing and Opportunities for People Everywhere, has been frustrated by the city's snail pace.
"The need for action to expand and preserve affordable housing is immediate and urgent because we are talking about meeting the needs of families and children," Soliván said in an interview with Mic.
Soliván, who previously served as the senior vice president at the Philadelphia Housing Authority, resigned from HOPE in February. Hancock had created the office just a year prior to help provide housing solutions for Denver residents across the income spectrum. Soliván left his position shortly after HOPE was folded into the city's Office of Economic Development in January. OED communications director Derek Woodbury said in an interview that the consolidation was part of a wider process to streamline administration and better leverage existing resources.
In his State of the City speech, Hancock also touted the city's role in creating one-quarter of Denver's affordable homes — but Soliván said this isn't the entire picture.
"The developers of affordable housing bring 90% or more of the funding to the table for affordable development, and the administration puts in less than 8%," Soliván said. "The current administration has taken credit for every unit [for which] they have put in a single dollar, but the fight for affordable housing requires more."
"We're a gap funder, providing financing for a small gap in the funding necessary for affordable housing development, generally 5-7%," he said.
Denver is losing residents due to housing crunch
Rebecca Snow, a 20-year resident of Denver and single mother whose son recently went off to college, left the city two years ago because she was unable to afford her $1,300 two-bedroom apartment. An author and adjunct professor at a local community college with a fluctuating income, Snow often paid more than half of her monthly salary in rent, she said in an interview with Mic.
Snow estimated she moved an average of every two years in Denver, sometimes more frequently. She left one apartment because of a bedbug infestation; another time, she had to take a landlord to court because he refused to address a sewage leak in the basement.
"It was never for a trivial reason," Snow added.
She described to Mic the psychological toll of the constant moving and uncertainty of not being able to pay rent.
"I remember lying awake all night, stressed about not being able to pay rent for one more month, knowing I couldn't afford to go into debt," she said. "Over 10 years of hard work had gone by, staying up late almost every night grading papers and prepping for my classes, and I couldn't bring myself to move to yet another dive."
In total, the deficit of homes and apartments in the Denver region is expected to reach about 32,000 units in 2018, which will continue pushing housing prices higher as demand remains greater than the existing supply of available housing, according to recent analysis from Shift Research Lab.
However, the outflow of long-term residents may soon outpace the inflow of transplants from other cities. Redfin recently reported that in the first three months of 2018, there were more home searches by users looking to move from Denver than those considering a move to the Mile High City. According to the real estate brokerage firm, home searches are "a forward-looking indicator of what is likely to happen to a city's population."
Housing has been on the city's agenda since Hancock took office in 2011. The following year, Hancock convened a housing task force to identify strategies to address the city's growing housing needs. The task force's primary suggestion was to identify and fund a permanent and predictable source of revenue for affordable housing.
That revenue stream finally came in September 2016, when the Denver City Council approved the creation of a dedicated fund with the goal of generating $150 million for affordable housing over 10 years, beginning in January 2017. The fund is financed by linkage fees from developers and property taxes through a mill levy. In its first year, however, the city had to dip into its own reserves to buoy the fund when revenue from linkage fees fell short of expectations by over $2 million.
In 2017, the mayor put together a Housing Advisory Committee made up of 23 government representatives, service providers and developers who were experts on housing and homelessness. The HAC drafted a plan called Housing an Inclusive Denver, which outlined how the city planned to meet its goal of creating or preserving roughly 3,000 affordable housing units by 2023.
Both the HAC and housing plan have come under scrutiny over the last several months. The HAC's role has remained advisory, with little power to oversee the implementation of its proposals. Critics say the housing plan and the attached $15 million affordable housing fund is an insufficient response to the problem, especially in the city's most vulnerable neighborhoods.
"Denver's attempts to address its housing crisis are at odds with and undermined by other policies, including its economic policies and criminalization of homelessness," Nathan Hunt, program director of economic justice for the Interfaith Alliance of Colorado and one of the individuals behind Denver's first tiny home village, said in an interview with Mic.
Hancock, meanwhile, has subsequently proposed doubling the city's current affordable housing fund from $15 million to $30 million annually via additional allocations from Denver's general budget and a tax increase on marijuana, which has been legal in Colorado since 2014. The Denver City Council will consider the proposal in August.
The city also hired a new chief housing officer, Britta Fisher, an 18-year-veteran of the nonprofit sector who joined the administration in May.
"I'm very excited to have joined the team at a time where Denver has recognized the critical need to invest," Fisher said in an interview with Mic. "We can't rely on the federal government. We have to invest at the city level as well. I'm proud to be a part of a team that recognizes that and is implementing that."
Affordable housing will be a defining issue in 2019
The city has put forth several measures and pilot programs, such as a temporary rent and utility assistance program, support for first-time homebuyers, community land trusts and an innovative voucher program. But community partners have been frustrated by the lack of progress made in the last year.
Fisher acknowledged the magnitude of the housing challenges facing Denver, but said she's excited to get to work. "It's not enough, but it is a good start and we are looking at ways to innovate and expedite the timeline on that such as our work partnering with the Denver Housing Authority and looking at how we can leverage their status and our resources to bring resources more quickly to bear so we can meet the need more immediately," she said.
One of the proposals that initially gained traction was the creation of a community land trust. Land trusts involve a nonprofit or other organization purchasing a parcel of land or home and then building or refurbishing houses to put up for sale or rent. Families meeting certain income requirements are able to buy or rent the homes, while the organization retains ownership of the land. Collaborative ownership helps control appreciation, limiting property taxes and improving affordability.
The Elevation Community Land Trust, a group made of several local foundations, approached the city of Denver in July 2017 after raising more than $24 million in private capital dedicated to creating or preserving 700 affordable homes. More than a year later, the group is shopping their proposal around to other neighboring municipalities such as the city of Aurora and Adams County after a lackluster response from the Denver mayor's office.
"The goal of the Elevation Community Land Trust is to build a bridge for renters who are ready to purchase their first home but cannot afford a starter home—[currently almost] $500,000 — for their families," Tracey Stewart, investment director for Family Economic Security at Gary Community Investments, said in an interview with Mic. "We see that as a huge gap in the Denver and regional markets that interferes with family economic security."
Land trusts are a solution that can take years. But other proposed initiatives are attempting to offer immediate relief to low-income families. Lower Income Voucher Equity, for example, is a two-year pilot "rent buy-down" program aimed at families that earn between $33,000 and $67,000 for a household of four. In other words, LIVE targets families that earn too much to qualify for federal assistance, but not enough to afford market-rate rents.
The program would match eligible recipients with current vacancies, the majority of which are in what the city calls "high-opportunity neighborhoods" at the upper end of the rental market. Landlords would offer a slight discount on the rent, and tenants would pay up to 35% of their income toward rent. The difference would be made up by the voucher program. The idea is that the city, with support from local foundations, would match contributions from employers who sponsored vouchers for eligible employees. The first employer to sign up was St. Joseph Hospital.
Hancock first mentioned the program during his 2017 state of the city speech, with the goal of providing 400 existing, vacant apartments to low- and moderate-income residents by the end of 2017. A year later, the program has been reconfigured with the more modest goal of 125 units at a cost to the city of nearly $8,000 per unit. As of July, no families have benefitted from the program, and the city has lost $200,000 in grants pledged by local foundations.
According to the city, the process prior to presenting to the city council for review took longer than originally anticipated. "This was largely due to the complexity of this innovative program, which involved multiple parties and several different legal agreements," Woodbury said.
Skyrocketing land values are one of the main factors contributing to the housing crunch. Even though the tax rates have remained the same, the city has collected significantly more revenue in property taxes because property values have been in overdrive. While this is good for the municipal coffers, it's not always good for city residents.
"Decisions can be made to save lower-income homes," Soliván said. "Seniors on fixed incomes and people with low incomes — typically minorities — who own homes are, literally, priced out of their homes because of property taxes."
Harker has seen how this plays out in some of Denver's oldest neighborhoods, historic communities of color that are now rapidly gentrifying. She has witnessed friends and neighbors — long-term Denver residents — forced to sell due to an inability to pay rising property taxes or falling victim to speculative real estate deals.
"The city said it recognizes the urgency of the issue, but it has done nothing. We, the brown and black communities of Denver, are tired of the lip service," she said.
She is disappointed in what she perceives as Hancock's lack of leadership on affordable housing.
"Dude, you forgot where you came from!" she said of the mayor. "That very same narrative he espouses about being a child of the city, the very policies he put into place, would have made his mother homeless."
Affordable housing is likely to remain at the top of the political agenda in the run-up to municipal elections in May. As Hancock seeks his third term, challenger Kayvan Khalatbari, a local entrepreneur and co-founder of one of Denver's first marijuana dispensaries, is already making affordable housing a cornerstone of his campaign.
Following Hancock's 2018 State of the City address, Khalatbari issued a rebuttal, focusing on a proposed social housing project that "will signal to massive developers that the days of generating egregious profits on the backs of our residents are over."
Khalatbari said he decided to run for mayor after Hancock ran virtually unopposed in 2015. Regardless of the outcome of the 2019 elections, he told Mic he hopes to engage the current administration in tough conversations about issues such as housing.
"There will be dialogue and it will make Denver a better place because we will bring those topics to the forefront and engage people in this municipal process who have not done so before," Khalatbari said.