Hype Daily: Changes to MoviePass, Topher Grace's hobby and more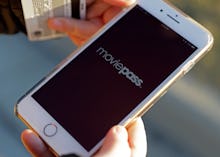 Welcome to Hype Daily, Mic's morning entertainment roundup. Here's everything you need to catch up on in the entertainment world and what to look forward to today. Want to receive this as a daily email in your inbox? Subscribe here.
Good morning from Hype reporter Anna Swartz.
Is this the end of MoviePass?
MoviePass — the service that used to let you see basically as many movies as you wanted for a $10 monthly fee — announced some new changes on Tuesday that some users fear may signal the end for the company. In a press release, MoviePass announced it will increase the monthly cost to $14.95, and that tickets to first-run movies will have limited availability.
This comes in addition to surge pricing, which it rolled out in July. On Thursday, MoviePass shut down for the night because it ran out of money and, on Saturday, users trying to purchase tickets ran into "technical difficulties." So is this the death rattle for the company or will it find some way to adjust? MoviePass, maybe you were just too good to be true.
Topher Grace edited The Hobbit trilogy into one movie... for fun
Topher Grace, who plays Ku Klux Klan Grand Wizard David Duke in Spike Lee's new film BlacKkKlansman, found playing the role so upsetting that he had to edit The Hobbit trilogy to de-stress. In an interview with IndieWire on Tuesday, Grace said that during filming, "I was so depressed. ... It was so disturbing to go home and turn on the news to see how his ideology was affecting us at the moment."
So he decided to edit the three Hobbit movies into one two-hour film. "I don't know what other guys do. Go fishing? For me, this is just a great way to relax," Grace said. "There's something really zen about it." This isn't the first time Grace has edited a franchise for fun, either. In 2012, he edited the Star Wars prequels into an 85-minute film. But, he says, film editing is just a hobby for him, not something he wants to do professionally. "It's like doing woodwork in my garage."
Alan Alda revealed he's been diagnosed with Parkinson's disease
Actor Alan Alda, 82, revealed in an interview on Tuesday that he was diagnosed with Parkinson's disease some three and a half years ago, NPR reported. Speaking on CBS This Morning on Tuesday, the actor said, "I'm not angry. ... It hasn't stopped my life at all. I've had a richer life than I've had up until now."
Parkinson's is a progressive disease affecting the nervous system. Alda said he wanted to go public with his diagnosis before people figured it out on their own from seeing him on television. "I could see my thumb twitch in some shots, and I thought it's probably only a matter of time before somebody does a story about this from a sad ... point of view," he said. "That's not where I am."
The Rock is wearing quite an outfit in this new movie
On Tuesday, Disney dropped a first-look teaser trailer for its upcoming film Jungle Cruise, starring Emily Blunt and Dwayne Johnson. That's right, it's another Disney film based on a theme park ride. We don't learn too much from the teaser trailer, except that the Rock will be wearing an old-timey sailor hat and gigantic suspenders in the film.
Disney has had mixed results turning rides into films, so it's fair to wonder: Will Jungle Cruise turn out to be a Pirates of the Caribbean or more like The Haunted Mansion? The movie doesn't come out until 2019, so we've got some time before we find out.
Put this on your radar: Insecure season three
The third season of Issa Rae's HBO show Insecure doesn't come back until Aug. 12, so it's still a little ways away, but it's never too early to get excited for Insecure. Season two ended with main character Issa's life upended after she and boyfriend Lawrence, played by Jay Ellis, seemed to break up for good. So it makes sense that the much-anticipated third season will bring a world of changes for Issa.
Lawrence is apparently not in this new season, much to the dismay of Lawrence fans, some of whom started a petition to bring him back. Lawrence or no Lawrence, I'm just really excited for this show to come back. Check out the season three trailer here.