Mueller refers Podesta, two other cases to prosecutors over possible foreign lobbying violations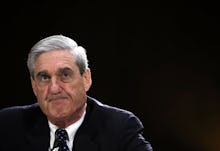 Special counsel Robert Mueller has referred three cases of potential foreign lobbying violations, including one involving Democratic lobbyist Tony Podesta, to the United States Attorney's Office of the Southern District of New York, according to multiple reports.
According to CNN, which first reported the referrals, Mueller has transferred matters involving Podesta, former Rep. Vin Weber (R-Minn.) and ex-Obama White House counsel Greg Craig have to New York prosecutors since the spring.
The referrals appear to mark the first time individuals associated with Democrats have been wrapped up in Mueller's investigation into Russia's election interference — and may be a further demonstration of the aggressive approach the special counsel is taking on improper foreign lobbying.
In each of the cases, prosecutors appear to be conducting an inquiry into whether the three failed to register as foreign agents when they did lobbying work on behalf of pro-Russian interests in the Ukraine.
Paul Manafort, President Donald Trump's former campaign chairman, is on trial for charges related to his shady lobbying work in the Ukraine.
The first of his two trials began Tuesday. He'll face his second trial in September.
It's not clear if any criminal charges will be filed against Podesta, who has been attacked numerous times by Trump, or Weber and Craig — both of whom are now lobbyists.
But the examination of their international lobbying work may indicate that prosecutors are taking a stronger stance on possible violations of the Foreign Agents Registration Act than they have in the past.
Manafort and his associate Rick Gates have both been scrutinized under FARA.
Former federal prosecutor Patrick Cotter told Mic in an email after alleged Russian spy Maria Butina was arrested for operating as an unregistered foreign agent in July that the Department of Justice appears to have taken a "more aggressive approach ... against unregistered foreign agents than we have seen in the past."
"In the past a certain amount of leeway was granted to certain foreign nationals and U.S. lobbyists to do some amount of work that might qualify as acting in an agent capacity for a foreign government, as long as it was not too extensive," Cotter said in July. But now, "the message seems to be that FARA is a law that should be taken seriously."