Best Places to Travel: Where Marcus Samuelsson eats, drinks and listens to jazz in New York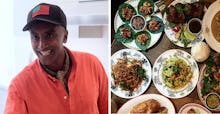 Chef Marcus Samuelsson's No Passport Required premiered July 10 on PBS. The show follows his travels throughout the country as he visits immigrant communities with thriving food scenes, like a Vietnamese neighborhood in New Orleans or a Mexican community in Chicago. Still, Samuelsson calls New York his favorite city — and home.
"It's the diversity, the ambition, the tension, pushing up against each other, everyone on top of one another," Samuelsson said in a conversation with Mic at an event hosted by Booking.com. "After I've been gone for three days, I think, 'Fuck, I want to go back.'"
Samuelsson's restaurant, Red Rooster Harlem, celebrates his roots in Harlem — where he moved in 1994 from Sweden, and where his love of food and the city combine.
"I still think of [Harlem] as an undiscovered place," he said. "The streets are much wider in Harlem so people really walk, it's like boulevards in France. And the people are still very spontaneous. If you walk through my park, there are five concerts and 10 barbecues going on — and you're invited to all of them."
Mic chatted with Samuelsson about his love of New York, the East Village cocktail bar he frequents and why the best jazz club in the city is never open to the public.
Where to eat
"A New York moment, to me, has to be a little weird and have a bit of randomness to it," Samuelsson said. "Estela over on Houston [Street] is that moment to me."
The Soho restaurant is best known for its minimalist take on American fare, including dishes like lamb ribs with charmoula and honey and its standout beef tartare. "And the chef is from Uruguay, so I'll eat whatever he recommends," he added.
Similarly, when Samuelsson is on the hunt for Thai food, he frequents the cozy Uncle Boons, owned by two former Per Se cooks. Affordable as it is mouthwatering, Uncle Boons' menu includes large plates to share among the table, like northern-style golden curry and a traditional crab fried rice. Between the restaurant's brick walls and the fact it's underground, it looks something of a dive bar — or your friend's apartment. "It's very family-run," Samuelsson said. "There's always weird art, the music is weird. It speaks to my sensibility."
Samuelsson also recommends a bike ride to Brooklyn to discover some of the borough's best sights and tastes.
"Brooklyn reminds me so much of Shoreditch [in London]," he said. "We walk over to Williamsburg and ride over to Bushwick, where there are so many artists, grab something from Roberta's and check out the graffiti — that's a fun day for me."
Where to get a good drink
The true test of a good cocktail bar is a negroni, Samuelsson said.
"I always ask the bartender what I should order, but I think a negroni is a good way to know a place — and I love Angel's Share," he said of the speakeasy hidden behind an unmarked door within a second-floor Japanese restaurant. The place is small, often busy, and comes with a set of rules, including no standing or parties greater than four. "All the cocktail bars went to Angel's Share to get their inspiration," Samuelsson added. "You can sit there and look over the East Village."
He also recommends Paris Blues in Harlem.
"It's an authentic throwback where music is first," Samuelsson said. "It's where you can have a great cocktail, but they also show another level of hospitality, like the food there is for free, which old Harlem bars used to [do]. So there might be oxtails or chicken wings around.
"My favorite experience in Harlem is in this woman Marjorie's home," he added. "She runs a jazz experience in her apartment. Every Sunday, you're invited to her house to watch a jazz trio and eat."
How exactly do you score an invite? Well, knowing the right people doesn't hurt — getting through the door may be a little harder for the rest of us.
Where to get coffee
Raising a 2-year-old in the city has its struggles, Samuelsson said. "It looks effortless, but it's not," he added. "Everything has to be timed and planned, and I just want to run around." Needless to say, coffee can become a necessity.
"Every morning, I go with my son to Harlem Coffee [Co.]," he said. "They have this fax machine with all the buttons for him to play on. So I can have my iced latte and go through my phone and papers while he's on the fax machine."
August 3, 2018, 12:37 p.m.: This story has been updated.