Trans superstar Amanda Lepore responds to Travis Scott album cover omission: "I upstaged everyone"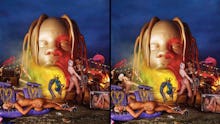 On Tuesday night, rapper Travis Scott shared a first look at the cover for his upcoming third album, Astroworld, with his 10 million Instagram followers. Three hours later, photographer David LaChapelle shared the same image with one key difference: Amanda Lepore, who had been digitally removed from the image Scott shared.
"This is great but there's one thing missing," Lepore commented on LaChapelle's post. "I'm curious why I'm not in the picture @travisscott posted."
Other LGBTQ celebrities quickly weighed in. "Fishy," Drag Race reigning queen Aquaria commented. "Hmmmm that's not cute," model Munroe Bergdorf added. "Fucked up that Amanda Lepore got cut," Drag Race season 7 winner Violet Chachki wrote.
On Wednesday, Lepore again commented on her omission from the image.
"A girl can't help it; I'm too distracting for the eyes," Lepore wrote in a statement to Mic that was also shared on her Instagram. "I upstaged everyone in the photograph. Oh well… I love David LaChapelle and Travis Scott."
It's not the first time an LGBTQ artist has been mysteriously omitted from the work of a more mainstream artist. In April, Noisey's Myles E. Johnson wrote a piece called "The ghost of Big Freedia" citing artists like Beyoncé and Drake who use Freedia's sound without having her appear in their respective videos.
No word from Scott's team as to the reasoning behind the omission, but many online, including Aquaria, are calling the mysterious photo altering transphobic.