Mic Daily: Governors threaten to withdraw from Title X, the latest from the Manafort trial and more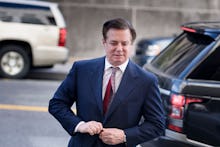 Welcome to Mic Daily: Mic's newsletter that cuts through the noise and lands in your inbox every weekday. We carefully curate each edition to send you a cross section of our most vital stories of the day. Want to receive this as a daily email in your inbox? Subscribe here.
Want more entertainment news in your inbox instead? Sign up for Hype Daily— Mic's morning entertainment roundup. It's got all the news you need to start your day.
The Trump administration's proposed Title X changes specify that federal family planning funds, which are used for reproductive health care services, "may not directly or indirectly facilitate, promote or encourage abortion in any way."
When Donald Trump was elected in 2016, one of his forefront promises was to "build that wall" along the U.S.-Mexico border — a phrase his supporters chanted across the country as if it were campaign gospel.
The idea has always been painfully controversial, but now, more than 2,800 scientists have backed a recent paper on the wall's dire threat to the environment.
Paul Manafort's attorneys on Tuesday laid out their defense against the 32 counts of bank fraud and tax evasion their client faces in his first trial, painting the former Trump campaign chairman as a victim of associate Rick Gates, whom they claim is responsible for the false bank and tax documents for which Manafort is standing trial.
Desiree Akhavan had wanted to make a film adaptation of The Miseducation of Cameron Post for years.
"I read the book in 2012, I loved it," Akhavan said in a phone call Tuesday. "It was my girlfriend at the time who said, 'You have to make this a film. ... It's going to be so good as a film.' I thought it was way out of my comfort zone and my abilities."
Denver's economic boom and low unemployment rate have attracted more than 100,000 new residents since 2010, but not everyone has benefited equally from such growth. While the population has exploded, the number of available housing units has not, resulting in an increasingly unaffordable — and for many low-income residents or first-time homebuyers, inaccessible — real estate market.