Hype Daily: Robyn's new single, an 'ALF' reboot and more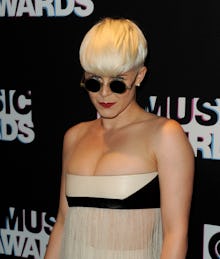 Welcome to Hype Daily, Mic's morning entertainment roundup. Here's everything you need to catch up on in the entertainment world and what to look forward to today. Want to receive this as a daily email in your inbox? Subscribe here.
Good morning from Hype reporter Anna Swartz.
Robyn's new single is finally here
Robyn fans, rejoice! "Missing U," the singer's first new solo single in eight years, hit streaming platforms Wednesday. Robyn premiered "Missing U" with a video earlier this week, but the song is finally available. Now the question is when will her long-awaited new album arrive? Back in February, the Swedish singer told a fan on Twitter her next album would be out "[sometime] this year." We're ready, Robyn!
ALF might get a reboot
Okay, reboot fever has officially gone too far. I'm calling it now. Variety reported Wednesday that Warner Bros. Television is working on a reboot of the '80s sitcom ALF, which ran for four seasons on NBC. I've never seen an episode of ALF, but from what I gather, it starred a small furry alien named ALF. He ate cats, I think?
According to Variety, the plot of the reboot might involve "ALF emerging from Area 51 — where he has been held captive since the original series finale —and observing how much the world has changed since that time." Wow.
The creators of Crazy Rich Asians turned down a massive offer from Netflix
The film Crazy Rich Asians, an adaptation of the book by the same name, premieres in August — but a new report from the Hollywood Reporter shows just how close the movie came to becoming a Netflix original instead.
The film's director, Jon M. Chu, and the author of the book, Kevin Kwan, told the Hollywood Reporter they turned down an extremely tempting offer from Netflix — "complete artistic freedom, a greenlighted trilogy and huge, seven-figure-minimum paydays for each stakeholder" — because it was so important to them to see the movie released in theaters.
"Here, we have a chance for this gigantic payday instantaneously," Kwan said. "But Jon and I both felt this sense of purpose. We needed this to be an old-fashioned cinematic experience, not for fans to sit in front of a TV and just press a button." They described feeling hopeful: If Crazy Rich Asians is a box office success, it could pave the way for more films centered on Asian-American characters. Still, the big offer from Netflix was hard to turn down. "I could have moved to an island and never worked another day," Kwan told the Hollywood Reporter.
Nicole Kidman will play Gretchen Carlson in a movie about Fox News
On Wednesday, Variety broke the news that Nicole Kidman will play the former Fox News anchor Gretchen Carlson in a new film about the network. In 2016, Carlson left Fox News and then filed a lawsuit against former Fox News chairman Roger Ailes, alleging he had sexually harassed her and pushed her out of her job when she refused him. After Carlson, more women went public to allege Ailes harassed them. In July of that year, Ailes resigned. He died in 2017.
According to Variety, the upcoming film will follow the story of the women who "took on the toxic male culture of Fox News and helped depose its chief architect." After the news broke that Kidman would play Carlson, Carlson tweeted, "As the first person to take the risk — it also means I can't share all of the details of what really happened, so I hope the true story is depicted. The most important thing is that so many more women are now believed and have been given a voice."
Put this on your radar: The Miseducation of Cameron Post
The Miseducation of Cameron Post premieres Friday and if you want to have a lot of feelings about teenage isolation and the early '90s, this is the film for you. The movie, an adaptation of Emily Danforth's novel by the same name, stars Chloë Grace Moretz as Cameron, a Montana girl who's sent to a Christian "conversion therapy" boarding school after she's outed to her conservative family.
In an interview with Mic, the film's director, Desiree Akhavan, said she wanted to make the film for years, ever since she first read the novel.