Today in Trump's America: Is a once-safe GOP House seat slipping away from Republicans?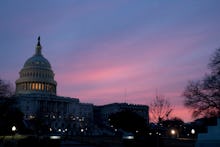 Welcome to Mic's daily read on Donald Trump's America. Want to receive this as a daily email in your inbox? Subscribe here.
Good morning from Emily Singer at Mic.
Check out Mic Dispatch, Mic's new show reporting on the problem-solvers and the provocateurs in our changing world. Subscribe here for alerts on new episodes airing Tuesdays and Thursdays, 8 p.m. Eastern, on Facebook Watch.
Here's what's happening in Trump's America:
• It's another late start for Trump, who begins his day at 11:30 a.m. with his daily intelligence briefing. On Wednesday, Trump spent the morning tweeting — including a call for special counsel Robert Mueller to be fired, setting off another chaotic news cycle.
About last night: Trump thinks he can convince Mueller his investigation is a witch hunt, per report
Trump wants to sit down for an interview with special counsel Robert Mueller's team, against the advice of his legal team, which thinks an interview is a bad idea, according to a Wednesday night report from the New York Times.
Trump thinks he can convince Mueller's team the investigation is a "witch hunt," according to the report. Mueller's team, on the other hand, is not backing down from its demand to ask questions about whether Trump tried to obstruct justice to shut the Mueller probe down.
While Mueller's team agreed to allow some questions to be answered in written form, it still wants to preserve the right to ask follow-up questions in person. The New York Times reports Trump's lawyers think answering questions in person could lead to legal troubles for Trump and thus do not want to allow it.
Trump is clearly growing frustrated with the investigation, tweeting Wednesday he wants Attorney General Jeff Sessions to end the probe.
Trump's personal lawyer Rudy Giuliani and White House press secretary Sarah Huckabee Sanders both said Trump's tweet was not an order but rather Trump's opinion — an explanation that stretches credulity.
"It's not an order. It's the president's opinion," Sanders said at Wednesday's daily news briefing.
Giuliani also issued an ultimatum for Mueller Wednesday to "put up or shut up" — another bizarre comment given Mueller does not speak publicly.
Today in Trump's America: Trump holds second campaign rally of the week
As midterm season heats up, Trump is hitting the campaign trail in full force. He'll hold his second rally of the week Thursday, this time in northeastern Pennsylvania, to boost himself and GOP Senate nominee Lou Barletta.
While Trump carried Pennsylvania by the slimmest of margins in 2016, polls show his standing has diminished in the state. A Suffolk University/York Daily Record poll from late June found Trump with just a 41% approval rating in the Keystone State. It also found Sen. Bob Casey (D-Pa.) crushing Barletta by nearly a 16-point margin in the November contest.
This won't be Trump's last rally of the week. On Saturday, Trump heads to yet another state he won in 2016, Ohio, where he'll try and boost a Republican to victory in a special election in the state's 12th District. Like Pennsylvania, Trump's standing in Ohio has fallen since his election. A Quinnipiac University Poll from June found Trump with a 43% approval rating in the Buckeye State.
Capitol Hill happenings: GOP at risk of losing a safe Republican House seat
A once sleepy special election for a House seat in Ohio is garnering a flurry of attention in the final days of the contest, as polling shows Republicans are at risk of losing the Columbus-based 12th District they've held for decades.
A public poll released Wednesday, six days before the Aug. 7 special election, showed Democratic nominee Danny O'Connor one point behind Republican nominee Troy Balderson.
Trump carried this seat by an 11-point margin in 2016, making this heavily a Republican seat. So the fact a Democratic nominee is this close in polling should come as a troubling sign to Republicans, who will defend seats far less GOP-leaning than this one in November.
In yet another sign Republicans are nervous about losing this contest, Trump himself heads to the district Saturday for a campaign rally in an effort to boost Republican enthusiasm for the race to help pull Balderson to victory.
The seat is open thanks to GOP Rep. Pat Tiberi's resignation earlier this year.
And the rest…
Manafort trial update: It's now Day Three of former Trump campaign chairman Paul Manafort's trial. Prosecutors have so far called a number of witnesses who have testified Manafort spent hundreds of thousands of dollars at their businesses using wire transfers from offshore accounts — something witnesses described as unusual. It's part of prosecutors' efforts to show Manafort hid millions of dollars overseas in order to avoid paying taxes on the funds. Manafort, for his part, is trying to pin the bank fraud and tax evasion charges on his former associate, Rick Gates, who already pleaded guilty and agreed to testify against Manafort. A former federal prosecutor told Mic pinning the crimes on Gates is Manafort's best defense, but one that is not likely to succeed. The trial will continue Thursday with testimony from more vendors Manafort purchased goods and services from as well as bookkeepers and tax accountants, according to the Washington Post.
Family separations: A federal judge ruled the government must stop giving psychotropic drugs to undocumented minor children without the permission of their parents, the Washington Post reported. This is just the latest in a slew of bad headlines about the Trump administration's family separation policy.