Trump seems to think he can convince Mueller that Russia probe is a "witch hunt"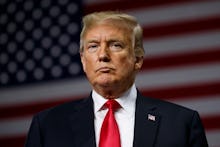 President Donald Trump has been attempting to convince his legal team to let him sit for an interview with special counsel Robert Mueller, apparently because he believes he can convince investigators "of his belief that their own inquiry is a 'witch hunt,'" the New York Times reported Wednesday.
According to the paper, Trump has been eager to meet with the special counsel's team — despite his own lawyers' reluctance to grant such an interview, concerned that the president could put himself in legal peril.
Mueller — who has interviewed other high profile members of Trump's campaign, transition and administration — has long sought a meeting with the president. Yet Trump's legal team has resisted allowing him to testify, and the president himself has waffled on the matter as he railed against the special counsel's investigation into possible collusion with the Russians in 2016 and obstruction of justice.
Trump continued to escalate his attack on the investigation Wednesday, calling on Attorney General Jeff Sessions — who recused himself from matters related to the probe in early 2017 — to shut it down.
"This is a terrible situation and Attorney General Jeff Sessions should stop this Rigged Witch Hunt right now, before it continues to stain our country any further," Trump tweeted Wednesday. "Bob Mueller is totally conflicted, and his 17 Angry Democrats that are doing his dirty work are a disgrace to USA!"
It was one of his most direct calls to kill the probe into his own campaign, and Democratic leaders, including Rep. Adam Schiff (D-Calif.), condemned it as an "attempt to obstruct justice hiding in plain sight."
The White House denied that Trump was actually directing his attorney general to end the "ridiculous" investigation.
"It's not an order," press secretary Sarah Huckabee Sanders said in a press briefing Wednesday. "It's the president's opinion."
Regardless, that and other Trump tweets regarding the investigation are likely of interest to the special counsel, who has been scrutinizing the president's online attacks on the probe as part of his inquiry into obstruction of justice.
Mueller has wanted to question Trump about that possible obstruction of justice, along with potential collusion between his campaign and the Kremlin, for months. Trump's team has attempted to set terms for what investigators can ask him and in what format.
On Tuesday, according to the Times, Mueller sent Trump's team a revised interview request in which the topics remained the same, but they agreed to allow the president to respond to certain questions in writing — if they could follow up on those answers in person if necessary.
Trump's lawyers oppose the in-person portion of the interview, according to the Times, and may be inclined to turn down the proposal — something that could trigger a subpoena battle with Mueller. But Trump, flustered by the probe, is reportedly pushing his team to keep negotiating under the belief he can clear himself of wrongdoing in an interview.
"We're in the process of responding to their proposal," Trump lawyer Rudy Giuliani told reporters Wednesday.