Trump is ramping up his rally schedule. How will that affect the GOP in November?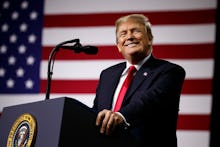 It's quiet in Washington, D.C., as Congress — and thus much of the rest of the nation's capital — has fled down for the August recess.
President Donald Trump, however, is busy, holding a flurry of campaign rallies this month as the 2018 midterm election season draws near. This week alone Trump had three rallies scheduled in Tampa, Florida, Wilkes-Barre, Pennsylvania, and Delaware, Ohio.
But experts say it's not clear whether Trump's rallies will help Republicans this fall, when they're expected to face a tough environment thanks to Trump's unpopularity.
"There's limited evidence that campaign appearances by surrogates really matter all that much," Geoffrey Skelley, an associate editor and political analyst at Sabato's Crystal Ball, the University of Virginia Center for Politics' nonpartisan political handicapping newsletter, said.
The biggest help Trump's rallies could bring to Republicans is the potential boost of campaign cash GOP candidates can raise from his appearances.
"Democrats are fundraising at an incredible rate in a lot of these competitive races, and if you're a Republican, maybe doing an appearance with the president might not be a bad way to get attention and gin up fundraising going forward," Skelley said.
Trump's rallies could also help his party in safe Republican territory where Trump remains popular, including states that are playing host to competitive Senate races this cycle like North Dakota, Montana, Indiana and West Virginia.
However, many of the competitive House contests this cycle that will determine which party controls the lower chamber of Congress are taking place in suburban areas where Trump's popularity is in the dumps. And that puts large swaths of the country off limits to Trump's signature rallies.
"The conventional wisdom would be that if President Trump is going to campaign on behalf of Republican candidates, he should do it where he's relatively popular, which doesn't describe a lot of suburban places that are in play this cycle," Skelley said.
Trump's inability to stay on script in front of a crowd also makes his rallies a risky endeavor.
For example, Trump's rally on Tuesday in Tampa, Florida, made headlines for Trump being out of touch with how Americans purchase groceries, as well as led to pieces about the conspiracy theorists featured prominently in the rally crowd. Those stories are unlikely to help the candidates Trump went to Florida to bolster, including Florida Gov. Rick Scott who is running for Senate in the state.
Trump has also made negative headlines after speeches when he said African-American football players who kneel during the national anthem should be fired, told inappropriate stories about lavish yacht parties in front of thousands of young Boy Scouts, and called for Sen. Elizabeth Warren (D-Mass.) to be DNA tested while at the same time mocking the #MeToo movement.
Skelley added that Trump's rally Thursday night in Wilkes-Barre, Pennsylvania, seems like a wasted opportunity, given that the Senate race there between Democratic Sen. Bob Casey and GOP Rep. Lou Barletta looks safe for Democrats.
"I'm not sure Pennsylvania is worth it," Skelley said.
Ultimately, Trump is unlikely to stay off the campaign trail, as he has a penchant for campaign rallies and the adoration of crowds.
And Skelley says that Trump's campaign should keep him contained to the handful of states where he remains popular to avoid any possible damage.
"He's going to campaign, hes' going to be out there, because he loves the rallies," Skelley said. "If he's going to campaign, if I'm him and his political team, I'm just trying to choose good spots to go to."