The career of Paul Manafort shines a light on the legal gray area of foreign lobbying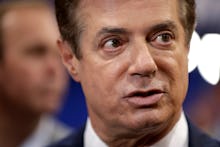 Paul Manafort was already known as a boundary-pusher in the world of political lobbying when he began working in 1985 for Ferdinand Marcos — the strongman of the Philippines who was looking to repair his reputation and keep his hold on power after 30 years in office.
Manafort's firm — Black, Manafort, Stone and Kelly — signed on to "lobby, represent, advise and assist in the promotion of the political and economic objectives" of Marcos, according to a Foreign Agents Registration Act filing at the time.
It was one of the firm's first big international deals — and one that would foreshadow the dealings that would define Manafort's career.
While Manafort is currently on trial for a variety of alleged crimes related to his international lobbying — including FARA violations, conspiracy against the United States, tax fraud and money laundering charges — much of his work existed in a gray area. Plenty of it was legal. In fact, foreign lobbying has long been commonplace — and the line between what's legal and what's not can often be murky.
"I think that more than what the average person would expect is legal," Lydia Dennett, a national security and foreign influence investigator with the Project On Government Oversight, said in a phone interview. "It's kind of a sticky situation. We do not think that foreign lobbying should be outlawed, but it's incredibly hard to nail down exactly how to structure the law to regulate that influence."
Manafort was indicted in October 2017 as part of special counsel Robert Mueller's Russia probe, which is examining possible collusion between the Trump campaign and the Kremlin, as well as potential obstruction of justice on the part of the president. He and his longtime associate, Rick Gates, were initially charged with "conspiracy against the United States, conspiracy to launder money, unregistered agent of a foreign principal, false and misleading FARA statements, false statements and seven counts of failure to file reports of foreign bank and financial accounts."
Mueller tacked on additional charges against the pair in February, including false taxes, failure to report foreign bank and financial accounts and a series of bank frauds and bank fraud conspiracies. Days later, after Gates began cooperating with Mueller, Manafort was hit with another superseding indictment, in which he was charged with conspiracy against the United States; conspiracy to launder money; unregistered agent of a foreign principle; false and misleading FARA statements; and false statements.
The tidal wave of charges capped more than a year of scrutiny over his work for foreign clients, particularly the pro-Russian Ukrainian political party he aided. It also brought to the fore questions about the frequently secretive world of foreign lobbying.
"The Manafort case opened up peoples' eyes to the whole practice and people started asking questions and digging into what's really going on here," David Dulio, chair of the Political Science Department at Oakland University, said in a phone interview. "I think that raises peoples' eyebrows."
But according to Dulio, while some may be uncomfortable with the idea of officials lobbying the U.S. on behalf of foreign governments, the practice isn't necessarily unusual.
"Lobbying is often misunderstood. At the end of the day, lobbyists are helping their clients engage in a protected First Amendment right," Dulio said. "Now, when it involves a foreign entity, that's where I think a lot of people [feel uneasy], even if they accept that lobbying in general is okay."
But what constitutes legal foreign lobbying, and what makes foreign lobbying illegal?
The practice is governed by FARA, which was enacted in 1938 and requires "persons acting as agents of foreign principals in a political or quasi-political capacity to make periodic public disclosure of their relationship with the foreign principal, as well as activities, receipts and disbursements in support of those activities."
It's the main law governing foreign lobbying, but according to Dennett, the Manafort case underscores its shortcomings.
"What I think his case shows in particular is where FARA falls short," Dennett said.
According to Dennett, "there is a fundamental lack of clarity" as to what "constitutes a FARA case and how to enforce or administer this law" — possibly one reason that there had been just seven FARA prosecutions in the last 50 years before Manafort was charged with violating the law.
It's difficult to define what constitutes foreign lobbying, which can take a number of forms — from official meetings on Capitol Hill to more nebulous activities, such as introducing foreign officials to members of the U.S. government or media at parties, Dennett said.
"It's not so much that we need a total overhaul of the system," Dennett said. "But they need to address the way influence is peddled now — not how it was in 1938 when the law was created."
Of course, there are some clear ways in which Manafort allegedly crossed the line.
In addition to his alleged financial crimes, Manafort failed to register as a foreign agent for the shady work he did on behalf of Viktor Yanukovych and the pro-Russian Party of Regions in Ukraine — dealings that the FBI has been investigating since 2014, two years before he joined the Trump campaign.
Trump has since complained that he should have been notified about the ongoing investigation into Manafort, whose role on the campaign has been downplayed by the president.
But while he has distanced himself from his former campaign chairman, Trump has also defended him, claiming that the justice system has been "very unfair" to him.
However, according to former federal prosecutor Patrick Cotter, Manafort's activities appear to clearly stand out from most foreign lobbying cases — both because of the presence of "classic" alleged crimes like money laundering and because of his "history, legal and business savvy and the nature of the work he did."
"This was a large and longstanding violation of FARA by any measure," Cotter said in an email. "It is not as though he crossed the FARA line once: Manafort drove a semi truck over the line dozens of times and built a virtual second home over in FARA violations land."