'Mic Dispatch' episode 6: Desmond Phillips; Sky Cubacub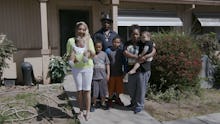 In our latest edition of Mic Dispatch, we explore the story of Desmond Phillips. In March 2017, Chico, California, police shocked Phillips with a stun gun and then shot him 10 times, killing him. David Phillips, Desmond's father, said he had called 911 because his son, who he said had post-traumatic stress disorder, was having a mental health crisis. The officers' actions were deemed justified: The Butte County district attorney said they were trying to save themselves, the elder Phillips and his grandchildren from a potential lethal attack by Desmond. But the Phillips family disputed this assessment: They filed a federal civil rights lawsuit and a wrongful death claim, alleging that officers were negligent in their response to the call. The city rejected the wrongful death claim, and in March, lawyers for the city and the officers denied the negligence allegations.
Next up, we meet the Radical Visibility Collective, which hopes to buck the fashion industry's lack of inclusivity — especially when it comes to the queer community. The Chicago-based group, which was founded by Sky Cubacub, is composed of two interdisciplinary artists, Compton Q and Vogds, who celebrate what they call "queercrip" identity. It is "a politicized umbrella term that encompasses queer, gender nonconforming identities, visible and invisible disabilities/disorders." For Cubacub, it's important to cater to the needs of their clientele with disabilities and add a colorful and sexy flair that highlights each person's queer identity.
Check out episode six of Mic Dispatch above — only on Facebook Watch.
To catch future episodes of Mic Dispatch, follow Mic Dispatch on Facebook Watch. For more stories about the show, visit the Mic Dispatch collections page.