This week in food and travel: The rise and fall of Pinkberry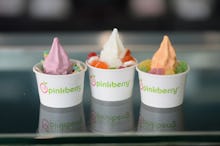 When Pinkberry opened in 2005 at a West Hollywood location, it helped to reinvent frozen yogurt. With anywhere from 800 to 1,500 customers per day at a given location, frozen yogurt was no longer a neglected offering on the bottom of the menu of the ice cream store; it was hip, "healthy" and visually appealing. We explored the rise and fall of the once-popular froyo empire.
This week, we also looked at the impact of Hispanic communities on the Appalachian food scene, the spirit of activism in the dining culture of Oakland, California, and chef Marcus Samuelsson's favorite spots in New York.
Pinkberry was more than a froyo spot: It was the closest teens could get to living out the lives they watched on The Hills and Real Housewives. Read more here.
"Appalachia is a much more multicultural and diverse region — and always has been — than it's portrayed in the media." Read more here.
Oakland has taken on a distinct, powerhouse culinary identity of its own and its chefs are on a mission to break boundaries, both socially and in the kitchen. Read more here.
The chef's go-to spots include a trendy Soho Thai restaurant and jazz club in Harlem so exclusive, scoring an invite is nearly impossible. Read more here.