Hype Daily: Drake's video for "In My Feelings," Barry Jenkins' new trailer and more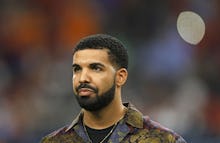 Welcome to Hype Daily, Mic's morning entertainment roundup. Here's everything you need to catch up on in the entertainment world and what to look forward to today. Want to receive this as a daily email in your inbox? Subscribe here.
Good morning from Hype reporter Anna Swartz.
Check out Drake's video for "In My Feelings"
Drake's entry for song of the summer, "In My Feelings," already inspired a viral dance challenge that got teens to jump out of moving cars. Now there's an official music video from Drake himself — but don't worry, because Shiggy, the man who kicked-off the #InMyFeelingsChallenge, made it into the video, which dropped Thursday night.
Phylicia Rashad, La La Anthony and Big Freedia are also in the music video, and at the end there's a fun montage of some of the #InMyFeelingsChallenge videos that went extremely viral, including the one from Will Smith and the one with the camels. You know the one I'm talking about. Watch the whole music video here.
Barry Jenkins released a teaser trailer for If Beale Street Could Talk
Thursday would have been writer James Baldwin's 94th birthday, a milestone that director Barry Jenkins observed by releasing a beautiful new teaser trailer for his upcoming film If Beale Street Could Talk, an adaptation of Baldwin's 1974 novel of the same name.
"For me, Aug. 2 has always been a day to pay tribute, so... a teaser of what's to come," Jenkins wrote on Twitter. "Happy Birthday, Jimmy." The film adaptation of If Beale Street Could Talk is set for release sometime this fall. It stars Stephan James and Kiki Layne as Fonny and Tish, a couple who are separated when Fonny is falsely accused of rape. If the rest of the film is like the trailer we just saw, it will also be a heartbreakingly beautiful portrait of 1970s New York City. Watch the full thing here.
Jennifer Aniston says women in Hollywood have treated her worse than men have
In a new interview with InStyle, Jennifer Aniston spoke to her friend Molly McNearney about her new film Dumplin' and her life as an extremely famous person. When McNearney asked Aniston if she had ever been "sexually harassed in the workplace," Aniston responded with somewhat of a pivot.
"I've definitely had some sloppy moves made on me by other actors, and I handled it by walking away," Aniston said. "I've never had anyone in a position of power make me feel uncomfortable and leverage that over me. In my personal experience I've been treated worse verbally and energetically by some women in this industry." She added later that the #MeToo movement is "long overdue," but still, come on Jen.
Scott Patterson might write a Gilmore Girls book
Does anyone else care about this news, or just me? Scott Patterson, who played Luke Danes, the surly diner owner and love interest on Gilmore Girls, tweeted that he's thinking of writing a tell-all book about his experience on the show. "They want me to write a Gilmore book, what it was like," he said on Twitter. "On the fence. Would y'all read it?" It's not clear who "They" is, or what the book would be about, but who cares! Luke might write a book!
Put this on your radar: Marching Orders
Marching Orders, a new Netflix series about the real-life world of college marching bands, debuts on Friday. If you loved Drumline, then this is definitely the series for you. The unscripted, 12-episode series is a peek into the audition process for the elite Marching Wildcats band at Bethune-Cookman University, a historically black university in Florida. Watch the trailer here.