Today in Trump's America: Trump doubles down on media attacks at Pennsylvania rally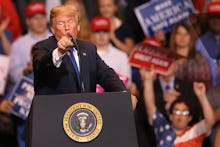 Welcome to Mic's daily read on Donald Trump's America. Want to receive this as a daily email in your inbox? Subscribe here.
Good morning from Emily Singer at Mic.
Check out Mic Dispatch, Mic's new show reporting on the problem-solvers and the provocateurs in our changing world. Subscribe here for alerts on new episodes airing Tuesdays and Thursdays, 8 p.m. Eastern, on Facebook Watch.
Here's what's happening in Trump's America:
• All is quiet in Washington with both the House and the Senate out for the August recess.
About last night: Trump continues his attacks on the media
With his approval rating mired in the low-40% range, and with predictions that his unpopularity imperils the GOP's majorities in the House and possibly the Senate, President Donald Trump is continuing his strategy to bash the refs, rather than trying to change his strategy.
At a Thursday night rally in Wilkes-Barre, Pennsylvania, to support Rep. Lou Barletta, who is running to unseat Democratic Sen. Bob Casey — his second rally of the week — Trump devoted a large chunk of time to attacking the media, which he continues to call the "enemy of the people."
"They can make anything bad because they are the fake, fake disgusting news," the president said.
Trump complained to the gathered crowd about the coverage of his summit with North Korean leader Kim Jong Un, even though that meeting appears to have produced few results, as North Korea is continuing to build missiles. He also defended his widely panned summit with Russian President Vladimir Putin. And he even complained about how the media covered his 2016 victory in Pennsylvania — 633 days ago — saying the press didn't call his extremely narrow victory in the state quickly enough.
Trump's attacks on the media came the same day that his daughter, Ivanka Trump, said she disagreed with her father's attacks on the media.
"I've certainly received my fair share of reporting on me personally that I know not to be fully accurate, so I have some sensitivity around why people have concerns and gripe, especially when they're sort of targeted," the first daughter told Axios at an event on Thursday. "But no, I do not feel that the media is the enemy of the people."
Neither the president nor White House press secretary Sarah Huckabee Sanders agreed with Ivanka Trump's message.
"They asked my daughter Ivanka whether or not the media is the enemy of the people. She correctly said no. It is the FAKE NEWS, which is a large percentage of the media, that is the enemy of the people!" Trump tweeted on Thursday. Given that Trump calls most major television networks and print outlets fake news, his clarification doesn't seem to clarify anything at all.
When asked at her daily news briefing on Thursday to tell the American people that the media is not the enemy, Sanders refused, and went on to complain about how she is treated by the public.
Capitol Hill happenings: Republicans complain about Democratic requests for Brett Kavanaugh records
Republicans on Thursday used empty boxes as props at a press conference to claim that Democratic requests to sift through Supreme Court nominee Brett Kavanaugh's records from his time as a top official in the Bush White House are out of line.
Standing in front of the tower of empty boxes, Republicans called the Democratic request unreasonable, and claimed they were engaging in extreme partisanship in their attempt to vet Kavanaugh's nomination.
"We can't keep going down this partisan, picky, stupid, dumbass road that has happened around here for so long," Sen. Orrin Hatch (R-Utah) said Thursday at the GOP's news conference on the Kavanaugh nomination. "I am sick and tired of it to be honest with you and I'm tired of the partisanship."
"Frankly, we didn't treat their candidates for these positions, the way they are treating ours. I would like to see us hopefully break through and change that," Hatch added.
Hatch was one of the Republicans who refused to meet or hold a hearing for Obama's Supreme Court pick, Merrick Garland.
Putting the blatant hypocrisy aside, the Republican argument is that it's too difficult to sort through the records of a Supreme Court nominee — who will receive a lifetime appointment to the highest court in the country.
And the rest…
Manafort trial update: Day 3 of former Trump campaign chairman Paul Manafort's trial is in the books, and evidence of his alleged bank fraud came into focus. According to CNN, prosecutors showed evidence that financial statements with Manafort's name on them were doctored and changed from the documents prepared by his bookkeeper, who testified on Thursday. An accountant who prepared Manafort's tax returns also testified that Manafort never told him about his offshore bank accounts, getting to the crux of the prosecution's tax evasion charges, according to CNN.
Another House Republican goes down: Voters in Tennessee went to the polls on Thursday to pick their nominees for the 2018 midterm elections. The results were mostly as expected. However, Rep. Diane Black, who ran for the GOP nomination for governor in the Volunteer State, lost a primary. She becomes the fifth House Republican to lose a primary bid for higher office this cycle, a sign that an anti-establishment current is still raging within the Republican Party.
Too hateful for the Army, but not for Congress: Tennessee state Sen. Mark Green was forced to withdraw his nomination to be Trump's secretary of the Army back in 2017, after past comments he made disparaging LGBT communities and Muslims surfaced. Green called being transgender a "disease" and said he wouldn't tolerate allowing students to learn about the Muslim faith. On Thursday, Green won a GOP House primary in Tennessee, and is now the odds on favorite to replace Rep. Marsha Blackburn, who won the Republican nomination for Senate Thursday night. Green's views were apparently too hateful for the Army, but not to write our laws.