While You Weren't Looking: 5 stories from the Trump administration not about Manafort's ugly jackets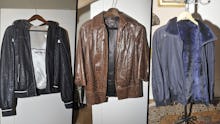 Coverage of former Trump campaign chairman Paul Manafort's first trial on bank fraud and tax evasion charges dominated the news this week. One especially attention-grabbing detail was the unattractive — yet very expensive — clothing he purchased with money from offshore bank accounts prosecutors say he used to avoid paying taxes on millions in income.
As Manafort sat in federal court, the Trump administration was busy making moves that could majorly impact Americans and immigrants alike. Here are five important stories from Trump's Cabinet you may have missed this week.
Trump administration finalizes rule allowing insurers to sell junk insurance plans
The Trump administration on Wednesday issued a rule that allows insurance companies to sell junk policies that don't have to adhere to Affordable Care Act standards such as coverage of pre-existing conditions, prescription drugs maternity and mental health services.
By allowing insurance companies to sell these "junk" plans, healthier Americans who believe they don't need higher coverage amounts could leave ACA marketplaces. This would leave ACA insurance pools with a costlier and sicker pool of people that may cause insurance companies to raise premiums.
"After an illness or an injury, many Americans who enroll in these GOP junk health coverage plans will end up being hit by crushing medical bills, finding that they have been paying for coverage that doesn't cover much at all," House Minority Leader Nancy Pelosi (D-Calif.) said in a junk.
Aside from Democrats, other major interest groups also panned the Trump administration's policy. This included the AARP — the powerful group that represents seniors — which said the new policy will disproportionately hurt older Americans who have not yet reached Medicare eligibility.
"This expansion of skimpy plans is a direct attack on the core consumer protections of the ACA," the AARP said in a statement. "Among the hardest hit will be the millions of Americans aged 50-64 who purchase coverage on the individual health insurance market and the 40% of Americans 50-64 who have a pre-existing condition."
Given that older Americans vote in large numbers, the AARP could run anti-Republican ads with the goal of punishing those elected officials who failed to prevent such insurance plans from being sold.
Trump weighs further reductions in refugee admissions
The Trump administration is considering reducing in the number of refugees allowed to resettle in the United States from 45,000 to 25,000, the New York Times reported Wednesday.
Senior adviser to the president Stephen Miller, the architect behind Trump's widely criticized travel ban, is leading the effort.
President Donald Trump in 2017 already lowered the number of refugees allowed into the U.S. to 45,000 — a historic low for the country, which had never seen a cap on refugee admissions below 67,000, according to the Times.
It's unclear when or if the change will become official. The number of refugees allowed to resettle in the U.S must reportedly be set by Oct. 1.
Trump administration freezes Obama-era fuel efficiency standards
The Department of Transportation and the Environmental Protection Agency on Thursday jointly announced the Trump administration would freeze Obama-era fuel efficiency standards for American cars and trucks.
The Obama administration created a regulation requiring automakers to increase fuel economy standards to 54 mpg by 2025, with ongoing targets manufacturers must meet until that date.
The Trump administration is freezing the standard at the 2020 level, which will the country's daily fuel consumption by 2-3%, according to a fact sheet from the DOT and EPA. To justify the freeze, the Trump administration argued better gas mileage would cause people to drive more frequently and open themselves up to increased risk of accidents on the road.
The administration is also seeking to challenge California's ability to set its own fuel standards — which could lead to a legal battle and test judges' adherence to states rights.
California's Attorney General Xavier Becerra already vowed California would "use every legal tool at its disposal to defend today's national standards and reaffirm the facts and science behind them."
Judge rules Trump administration cannot give psychotropic drugs to migrant children without parental consent
A federal judge in Los Angeles ruled Tuesday that the Trump administration must stop giving psychotropic drugs to migrant children at a facility in Texas without the consent of the child's parents or guardians, the Washington Post reported.
Staff from the Shiloh Residential Treatment Center in Manvel, Texas, reportedly admitted to giving medications to children without consent from the child's parents or guardians. Children from the facility testified that staff from the Office of Refugee Resettlement would provide them drugs without telling them what they were or why they should take them, according to a court filing.
"The staff threatened to throw me on the ground and force me to take the medication," one child testified. "I also saw staff throw another youth to the ground, pry his mouth open and force him to take the medicine."
Other children reported being injected with drugs against their will, with some saying they thought refusing to take the drugs would lead them to be detained for longer periods.
"I have not refused taking the pills because I was told that ... would make me stay at Shiloh longer," another child testified.
U.S. District Judge Dolly Gee also ordered the government to remove all children from the Shiloh facility, "except for children deemed by a licensed professional to pose a 'risk of harm' to themselves or others," the Post reported.
Group claims a toddler died after being held in ICE custody
A migrant toddler died after being held at an Immigration and Customs Enforcement facility in Dilley, Texas, the American Immigration Lawyers Association said Wednesday.
"AILA has learned that a toddler died soon after release from the Dilley South Texas Family Residential Center," Gregory Z. Chen, director of government relations for the AILA, said in a statement, the Washington Post reported. "We do not have information on the cause of death or information that confirms a connection between medical treatment at STFRC and this death."
The group did not name the child nor say when the child died. ICE told the Post it couldn't investigate the situation without that information.
However, ICE also said in a tweet that no child died under its custody.
"Reports that a child died in ICE custody at Dilley are false," the agency tweeted.