Rosenstein defends DOJ and Mueller probe amid escalating attacks from Trump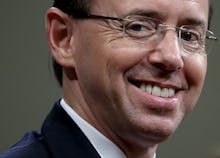 Deputy Attorney General Rod Rosenstein called for a "nonpartisan" commitment to the rule of law in a speech to lawyers in Chicago on Thursday, seemingly defending his Department of Justice and special counsel Robert Mueller's Russia probe from attacks by President Donald Trump and his allies.
"Our decisions do not please all the people all the time," Rosenstein said at the American Bar Association's annual gathering. "But they always reflect the care, caution and wisdom required by the law. That is what the president appointed us to do. It is what the Senate confirmed us to do. It is what the oath of office obligates us to do."
Rosenstein did not directly address the president's broadsides against those investigating him and his campaign for possible collusion with Russia in 2016 or potential obstruction of justice. He also didn't directly address the articles of impeachment House conservatives filed against him last week. Rosenstein did, however, speak of the need for DOJ officials to remain unbiased in their pursuit of "the truth, wherever it may lead" — and for their work to be protected from partisan attacks.
"The Department of Justice must never be a partisan actor," Rosenstein said. "In all cases, agents and prosecutors are obligated to make neutral decisions, preserve personal privacy, protect national security and insulate investigations from political interference."
The remarks came as Trump continues to escalate his attacks on federal law enforcement, and on the heels of a push by Republicans to oust Rosenstein in what critics regard as an attempt to hamstring Mueller.
"This is a terrible situation, and Attorney General Jeff Sessions should stop this Rigged Witch Hunt right now, before it continues to stain our country any further," Trump tweeted Wednesday. "Bob Mueller is totally conflicted, and his 17 Angry Democrats that are doing his dirty work are a disgrace to USA!"
Sessions has not overseen the investigation since early 2017, when he recused himself from the matter after his undisclosed campaign contacts with then-Russian ambassador Sergey Kislyak came to light. Rosenstein, a Trump appointee, has presided over the probe since then, and has been a frequent target of the president, who regards the investigation as a "witch hunt."
Rosenstein's job security has been a matter of public speculation for months, with Trump reportedly having considered firing him in the past to rein in Mueller.
Reps. Mark Meadows (R-N.C.) and Jim Jordan (R-Ohio) — two of Trump's strongest allies on Capitol Hill — made the most direct and public effort to can Rosenstein last week, filing a resolution July 26 to impeach him for "blocking Congress's constitutional oversight role" with respect to the investigation.
The effort to oust him is considered unlikely to succeed, and Mueller has so far been able to weather the attacks against him and challenges to his authority. This includes attacks from Paul Manafort, the former Trump campaign chairman who is on trial for charges related to his lobbying work on behalf of pro-Russian interests in the Ukraine.
Manafort back in April filed a civil suit against Mueller, contending the special counsel did not have the authority to charge him on matters unrelated to the 2016 campaign. A federal judge shot the ex-Trump campaign chairman's argument down.
Meanwhile, Mueller won a similar legal challenge on Thursday when a federal judge in Washington, D.C., ruled against Andrew Miller — an aide to Trump ally Roger Stone. Miller had been subpoenaed by the special counsel, but attempted to argue that his appointment was unconstitutional, according to Politico.
U.S. District Chief Judge Beryl Howell disagreed. "The scope of the special counsel's power falls well within the boundaries the Constitution permits," Howell said in the ruling.