EA says it didn't edit Kaepernick's name out of a song on a video game soundtrack on purpose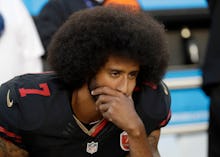 Video game maker Electronic Arts said it didn't intentionally edit Colin Kaepernick's name out of a song on the soundtrack of its new game Madden NFL 19, calling the omission "an unfortunate mistake."
As Vice reported Thursday, Madden NFL 19, which comes out Aug. 10, features the YG song "Big Bank" on the soundtrack, with a verse from Big Sean that name-drops Kaepernick. But as one fan discovered, Kaepernick's name sounds like it's been bleeped out of the song as though it were a swear word (for reference, the lyric is supposed to be "You boys all cap, I'm more Colin Kaepernick").
The news that Kaepernick's name appeared to have been edited out of the soundtrack spread quickly on social media. Kaepernick, a former NFL quarterback, was effectively blacklisted from the league after he began peacefully protesting police brutality by kneeling during the national anthem. He's currently suing the NFL, alleging that team owners colluded to keep him from getting signed to a new team after opting out of his contract with the San Francisco 49ers in March 2017.
Kaepernick himself retweeted a series of tweets about his apparent omission from the Madden soundtrack, and Big Sean tweeted about it too. "It's disappointing and appalling @NFL & @EA took @Kaepernick7's name out of my verse on Big Bank for Madden 19, like it was a curse word," Big Sean tweeted. "When he's not a curse, he's a gift! Nobody from my team approved any of this."
And YG also criticized EA for the change, posting Thursday on his Instagram, "Me or @2chainz @bigsean or @nickiminajdid not approve for @kaepernick7 name to be took off BIG BANK on madden. That shit wack. Y'all puttin us in the middle of a twist. Disrespectful, TAP IN."
In a statement posted to Twitter on Thursday night, EA chalked up the bleeping of Kaepernick's name to a misunderstanding. "Members of our team misunderstood the fact that while we don't have rights to include Colin Kaepernick in the game, this doesn't affect soundtracks," EA said. "We messed up, and the edit should never have happened."
The company added that an upcoming update will return Kaepernick's name to the song on the game's soundtrack. Whether that will quell the talk of a boycott of the game is another story.