What Melania Trump wore her 80th week as first lady — the one time we saw her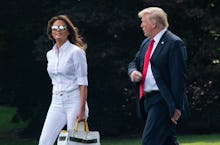 After a string of busy weeks for first lady Melania Trump, this past one was much more low-key. In fact, Trump really didn't have that many public appearances this week, although she was spotted on her way to spend the weekend in New Jersey with her husband.
Oh, she's also busy planning the White House Christmas season (already?). Maybe that explains why we didn't see her much this week.
Friday, July 27: An all-white outfit on the way to New Jersey
As she and her husband made their Friday journey from the White House to the Trump National Golf Club in Bedminster, New Jersey, Trump sported an all-white outfit: white jeans and a white top, paired with a white and yellow Burberry tote and yellow Manolo Blahnik heels. And of course she had her classic oversized-shades.
It's hard to tell the brand of jeans she's wearing, but the Twitter account @WhiteHouseFash guessed that it might be these slim boyfriend jeans from Rag & Bone. Better wear that all-white ensemble while you can, because Labor Day is right around the corner!
You can read previous recaps of what Melania Trump wore here.