What we learned in week 1 of Paul Manafort's trial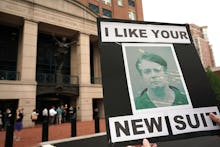 The first of former Trump campaign chairman Paul Manafort's two trials began Tuesday, with prosecutors seeking to convince a jury that Manafort engaged in widespread bank fraud and tax evasion to maintain a lavish lifestyle financed by his political consulting work with pro-Russian officials in Ukraine.
The trial is moving at a fast clip and may end earlier than prosecutors initially estimated.
Here's what we learned in week 1 of the trial.
Manafort will try to pin his alleged crimes on associate Rick Gates
With a mound of evidence showing bank fraud and tax evasion, Manafort's defense attorneys have decided not to fight the evidence and instead pin the crimes on former Manafort associate Rick Gates.
Gates, who already pleaded guilty to one count of conspiracy against the United States and one count of lying to federal investigators, is the prosecution's star witness and may testify against Manafort.
In their opening statements, Manafort's defense attorneys argued Manafort was simply too busy to deal with his finances and entrusted Gates with that task. They allege Manafort is a victim of Gates' illegal activity.
Former federal prosecutor Patrick Cotter said in a previous interview with Mic that given the amount of paper evidence against Manafort, this was the most logical defense for Manafort's lawyers to mount. Cotter also said he doesn't believe the defense has a high likelihood of success.
Manafort has really strange — and expensive — taste in clothing
The prosecution is trying to paint Manafort's lavish lifestyle as a reason why he "sought to hide and evade taxes on much of the $60 million he earned as a political consultant to Ukraine's pro-Russia president, Viktor F. Yanukovych," the New York Times reported.
To do that, prosecutors entered into evidence receipts of expensive custom clothing Manafort purchased, including a $15,000 jacket made of ostrich leather, an $18,500 jacket made of python and a fur-lined blue jacket — all pictured below.
Prosecutors called on the vendors who made the clothing, as well as others who performed landscaping and other work on Manafort's many properties across the country. All of those vendors testified that Manafort often paid with wire transfers from offshore bank accounts, which they told jurors was an "unusual method" of payment, CNN reported.
Showing Manafort paid with offshore bank accounts is part of the prosecution's attempt to show the jury that Manafort hid money overseas on which he failed to pay taxes.
The prosecution's case is strong
Four days into the trial, the prosecution has already called a number of witnesses who have steadily chipped away at Manafort's attempt at pinning the crimes on Gates.
A bookkeeper for Manafort's company testified Thursday that Manafort was broke by 2016 and sent false income statements to banks to obtain loans. The bookkeeper, Heather Washkuhn, said Manafort provided a financial statement to a bank claiming his company earned $3 million in the first nine months of 2016, when the company had actually lost more than $1 million in the first 11 months, according to CNN.
One of Manafort's accountants, Philip Ayliff, also testified Thursday and Friday that Manafort denied having foreign bank accounts when Ayliff asked.
The prosecutors showed an email from 2011 in which Manafort's accountant asked Manafort whether he had any interest in foreign bank accounts, to which he replied "no."
This gets to the crux of the tax evasion charges against the former Trump campaign manager, as the fact Manafort lied to his accountants about his overseas accounts diminishes his attorneys' attempts to pin the crimes on Gates.
"It is hard for me to see how Manafort escapes a conviction on those counts," former federal prosecutor Renato Mariotti tweeted about the tax evasion charges.
What we don't know: What is Manafort's end game?
As the prosecution builds its case against Manafort, the question becomes: What is Manafort trying to accomplish here?
Cotter, now a federal defense attorney, said the government doesn't always offer much in exchange for a plea, leading defendants to try their luck at trial. But others speculate Manafort may be holding out for a pardon from President Donald Trump.
Trump has proven he's willing to pardon people he feels have been loyal to him and use his pardon powers to make political points — and he's also railed against special counsel Robert Mueller's Russia investigation, which led to the charges against Manafort.
Trump also tweeted Wednesday that Manafort was being treated unfairly, leading to speculation he could pardon him.
"Looking back on history, who was treated worse, Alfonse Capone, legendary mob boss, killer and 'Public Enemy Number One' or Paul Manafort, political operative & Reagan/Dole darling, now serving solitary confinement — although convicted of nothing?" Trump tweeted, misspelling Capone's first name. "Where is the Russian Collusion?"