Progressives are running in red states, too — including a lesbian MMA fighter in Kansas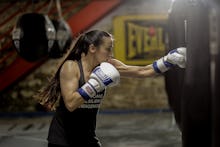 KANSAS CITY, Kan. — During the commercial break of local television newscasts in Kansas' 3rd District, ads show amateur MMA fighter and Democratic candidate for Congress Sharice Davids practicing punches and kicks, as if preparing for a fight. She's one of the projected frontrunners in the upcoming midterm elections, and if she makes it out of the primary and is elected to Congress, the Cornell Law School graduate and former White House fellow could make history twice.
She'd become the first Native American to represent the state of Kansas in Congress. She'd also be the state's first out gay congresswoman.
Considering that, it's not surprising that her candidacy has drawn national attention. Emily's List has reportedly invested $400,000 to air these ads on her behalf. Meanwhile, actress and singer Janelle Monáe and singer Melissa Etheridge, both from Kansas, have both tweeted their support.
Yet, a fighting spirit may be exactly what it takes to emerge from this crowded, six-person primary where Davids isn't the only one bringing in star endorsements.
A post on candidate Mike McCamon's Facebook page has a picture showing actor Matt Damon offering his support of the candidate, who worked with the Hollywood star at Water.org. Meanwhile, more than 2,000 Midwesterners piled into the Reardon Convention Center in Kansas City, Kansas, hoping to see Democrat Brent Welder campaign with Senator Bernie Sanders and New York Democratic candidate Alexandria Ocasio-Cortez.
On Wednesday, the Progressive Change Campaign Committee announced it would spend $30,000 on an ad blitz featuring Welder's attack on corporate money during that rally in July. Considered one of the more liberal Democrats in the race for Kansas' 3rd District, Welder supports a $15 minimum wage, "Medicare-for-all", and debt-free college.
It's a message some have suggested might be hard to sell to Midwesterners, but not to Mark Dillman, who was among the first in line for the Welder rally. He drove in from Topeka, Kansas, and wore a shirt decorated entirely with repeating photos of Sanders' face.
"The Democratic Party has for too long been a centrist party," he said.
Farther back in line, Pat Genaris, from Overland Park, Kansas, expressed similar support for Welder's platform.
"I think there are a lot of people who feel the same way, but in a state like Kansas, they think it is already a determined race," he said.
With the Midwest painted nearly entirely red on election maps, the term "Heartland voters" often is used interchangeably with "Trump voters." Yet at a more micro level, political scientists say they are seeing a shift to the left happen in some suburbs. Kansas' 3rd District, where voters chose Hillary Clinton over Donald Trump by one percentage point in 2016, is a great example. In fact, the Democratic Party lists it as one to target in 2018 because they believe that slim win indicates Republican incumbent Kevin Yoder is vulnerable.
It's quite the about-face from 2012, when Democrats didn't even field a challenger. Now, nearly all six of the candidates in the field are campaigning on platforms that might have been unthinkable in this state a few years ago.
"People who think [the district] is just super-duper deep red, they don't understand the breadth and variety of what dominates the third," said Patrick Miller, a political science professor at the University of Kansas who has examined the changing voting patterns of the district.
Miller pointed out that Democrat Dennis Moore held this seat for 12 years, although that was before redistricting. He described the district on average as more suburban, affluent and educated than elsewhere in the United States, but Miller believes it's also more diverse and unpredictable than people might think. He also found the idea that there is a huge ideological divide between the candidates in the Democratic primary a bit overblown.
"I wouldn't characterize any of these Democrats as a true moderate at all, or even center-left. They're all pretty liberal," said Miller.
Yet Sylvia Williams, who is also running as a Democrat for the nomination, disagreed with the characterization of campaign issues like health care as "leftist."
"I don't see it as moving far left. I see it as, 'You are a problem-solver and coming up with a solution for everyone,'" said Williams.
Williams, along with teacher Tom Niermann, are considered the among the moderates in the race. Williams said she has knocked on more than 1,500 doors in the district and believes it to be more purple than red. She said voters told her they are concerned about schools, family leave and universal health care.
But mostly, she said, they just want to know someone is listening.
"At the end of the day, I think this is still Kansas and politics is still local here," Williams said in a phone interview.
McCamon agreed with Williams that Democrats need to be careful not to get distracted from the issues important to Kansans. A tech guy who loves data, McCamon believes only a centrist candidate who can appeal to the district's high number of unaffiliated and moderate Republican voters can win in November.
"Prairie Village is not the Bronx," said McCamon, referring to a suburb outside of Kansas City.
Issues are only part of the considerable battle ahead. For his part, the incumbent Yoder has more than $2.6 million in his campaign PAC alone, while the Democratic field has struggled to raise that amount combined.
And the Republicans have brought in big names as well. Vice President Mike Pence arrived in Kansas City, Missouri, to stump for Yoder in July. President Donald Trump tweeted his support after Yoder, who chairs the House Homeland Security Appropriations Subcommittee and proposed a bill to allocate $5 billion for Trump's border wall.
Jay Sidie, another Democrat who lost to Yoder in the 2016 general election and is running again, believes the only way to overcome Yoder's name recognition and war chest is with a second-time candidate like himself.
"All the Democrats running are good Democrats," Sidie said. "They'd all be better congresspersons than Kevin Yoder, but what are the odds of a first-time candidate beating Kevin Yoder?"
But Kansas Democratic voters say they do feel the odds changing.
Tina Phillips came to the Welder rally energized by what she says is Ocasio-Cortez's ability to stand up to Republicans and "give it right back at 'em." Phillips lived in Kansas for 20 years before moving to nearby Independence, Missouri, but she's watching the Kansas 3rd District race closely.
"I'm hoping for once they'll have a chance," she said.