This Week in Trump-Russia News: Manafort goes on trial in Virginia in big legal test for Mueller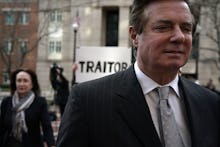 Paul Manafort is facing the music.
The first of the former Trump campaign chairman's two trials began in Virginia this week, rankling the president — and marking the biggest legal test of Robert Mueller's Russia investigation thus far.
Here's what you need to know about the Manafort trial, and about Trump's latest broadsides against his investigators.
Prosecutors put Manafort's lavish lifestyle on trial
Manafort's first trial got underway this week, with prosecutors arguing that he engaged in bank fraud and tax evasion to maintain the lavish lifestyle he paid for with his work for pro-Russian interests in Ukraine.
To that end, the prosecution has highlighted examples of his luxurious lifestyle — namely, his expensive clothes, including a jacket made from ostrich leather and one made of python, each of which cost upward of $15,000.
Manafort's defense is looking to shift the blame to Rick Gates — his former associate who has been cooperating with investigators since February.
But with a significant amount of paper evidence against Manafort, that'll be a difficult defense to make, analysts say.
"I think it was a very anticipated and expected defense," former federal prosecutor Patrick Cotter said this week. "Whether it works or not is wholly dependent on how strong a case the prosecution has, and it appears they have a very strong case."
Trump lashes out, demands probe be shut down
The start of the Manafort trial has further angered Trump, who made one of his most direct demands yet for the Russia probe to be shut down.
"This is a terrible situation and Attorney General Jeff Sessions should stop this Rigged Witch Hunt right now, before it continues to stain our country any further," Trump tweeted Wednesday. "Bob Mueller is totally conflicted, and his 17 Angry Democrats that are doing his dirty work are a disgrace to USA!"
Trump's online tantrum — which also included a bizarre comparison between the treatment of Manafort and Al Capone — seemed to be at least partially borne out of his frustration about the onset of the Manafort trial.
"The Manafort trial is spinning him into a frenzy," a Republican described as being in "frequent contact" with Trump told Vanity Fair.
His apparent increasing anger at the probe comes as Mueller continues to seek an interview with him — something Trump's legal team has generally opposed, fearing the president could imperil himself legally.
But it was reported this week that Trump is pushing his team to allow him to testify with Mueller's team, seemingly under the belief that he can convince them of his view that their own investigation is a "witch hunt."
"We're in the process of responding to their proposal," Trump lawyer Rudy Giuliani told reporters Wednesday.
Coats says Russia still trying to interfere
While Trump remains hostile to the probe, and continues to speak warmly of Russian President Vladimir Putin, others in his administration kept on ringing alarm bells about the Kremlin's ongoing efforts to meddle in U.S. politics.
"We continue to see a pervasive messaging campaign by Russia to try to weaken and divide the United States," Dan Coats, the director of national intelligence, said in a daily press briefing at the White House on Thursday. "These efforts are not exclusive to this election or future elections, but certainly cover issues relevant to the election."
The remarks by Coats and other national security officials this week stand in stark contrast to the public statements Trump has made about the probe and the Kremlin's malign activities — and underscores the dueling messages on Russia that are coming out of the Trump White House.
Coats and other administration officials, including Secretary of State Mike Pompeo, have described Trump as being aware of the threat posed by Russia and committed to addressing the issue.
But Trump has appeared to be anything but when he's commented on the matter, casting doubt on Russia's interference in 2016 and suggesting that the Kremlin was no longer targeting the U.S. both during and after his controversial summit with Putin in July.
During that summit in Helsinki, the two had a one-on-one meeting that critics of the administration have been seeking answers about since. While Pompeo told lawmakers on Capitol Hill in July that Trump had briefed him on "what transpired" in the meeting, he declined to describe what the two leaders had discussed.
Members of the press on Thursday attempted to get a better understanding of what was discussed between Trump and Putin in Helsinki, but Coats — one of the top intelligence officials in the administration — said he still isn't sure what went on during the meeting.
"I'm not in a position to either understand fully or talk about what happened at Helsinki," Coats said.