Mic Daily: What we learned in the first week of Paul Manafort's trial and more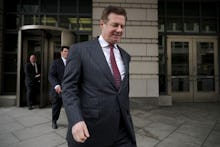 Welcome to Mic Daily: Mic's newsletter that cuts through the noise and lands in your inbox every weekday. We carefully curate each edition to send you a cross section of our most vital stories of the day. Want to receive this as a daily email in your inbox? Subscribe here.
Want more entertainment news in your inbox instead? Sign up for Hype Daily — Mic's morning entertainment roundup. It's got all the news you need to start your day.
The first of former Trump campaign chairman Paul Manafort's two trials began Tuesday, with prosecutors seeking to convince a jury that Manafort engaged in widespread bank fraud and tax evasion to maintain a lavish lifestyle financed by his political consulting work with pro-Russian officials in Ukraine.
President Donald Trump has made taking down the Affordable Care Act, a signature piece of legislation under the Obama administration, a key part of his presidential agenda ever since his days on the campaign trail. Now, a new lawsuit alleges his attempts to do so violate the U.S. Constitution.
President Donald Trump has redefined what it means to make a political gaffe. He now has to say or do something truly bizarre for the moment to last past a day's news cycle. A lot of errors big and small skate by. But Trump on Tuesday said something so goofy, it was ultimately revealing: He confessed he doesn't know how grocery stores work.
Video game maker Electronic Arts said it didn't intentionally edit Colin Kaepernick's name out of a song on the soundtrack of its new game Madden NFL 19, calling the omission "an unfortunate mistake."
If you've ever had a Sichuan dish — likely heavily flavored with Sichuan peppercorn — you're very aware of the cuisine's spicy and numbing qualities. But if you venture to China, the same dish will taste vastly different.