Trump goes after LeBron James in latest round of attacks on black athletes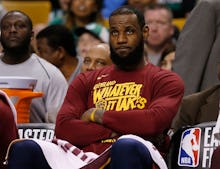 President Donald Trump on Friday night took a swipe at LeBron James, describing the NBA superstar as unintelligent in his latest broadside against black professional athletes.
"Lebron James was just interviewed by the dumbest man on television, Don Lemon," Trump tweeted late Friday. "He made Lebron look smart, which isn't easy to do."
"I like Mike!" Trump added, seemingly referencing basketball legend Michael Jordan, with whom James is often compared.
It was just the latest shot fired by Trump in his ongoing culture war against the predominately black athletes he has accused of being disrespectful to the country or to him personally — including last fall, when he said the "son of a bitch" football players who kneel during the pre-game national anthem should be "fired." He has continued to attack the players, who are protesting racial inequality and police brutality, tweeting in July that the "NFL National Anthem Debate is alive and well again."
"Can't believe it!" Trump tweeted in July.
James had criticized Trump over his attacks on athletes in a CNN interview Monday that re-aired Friday, seemingly prompting the president's latest Twitter outburst.
"What I've noticed over the past few months [is] he's kind of used sports to kind of divide us," James told CNN's Don Lemon on Monday. "And that's something that I can't relate to."
That seemed to get under the president's skin, and he lashed out against both the NBA great and Lemon, whom he claimed last year to "never watch."
Ohio Gov. John Kasich, a Republican, defended James in a tweet, praising the star's philanthropy and his I Promise school, and wading into a long-running debate as to who's better: LeBron or MJ.
"Rather than criticizing [LeBron James], we should be celebrating him for his charity work and efforts to help kids," Kasich, a frequent critic of the president, tweeted Saturday morning. "By the way, all-around he's better than Michael Jordan. That's a fact."
James — who had been on CNN to discuss the new school he opened last week in his hometown of Akron, Ohio — had yet to respond to Trump's dig early Saturday, but he has clapped back at the president in the past.
Back in September, after Trump said Steph Curry wouldn't be welcome at the White House, LeBron came to his rival's defense, reminding the president that the Golden State Warriors star "had already said he ain't going" and "therefore ain't no invite."
"U bum," James said in the now-famous tweet. "Going to White House was a great honor until you showed up!"
Lemon — who, along with his network, has been the subject of repeated attacks from Trump — was among those who came to the defense of the former Cleveland Cavaliers star, who is now with the Los Angeles Lakers.
"Who's the real dummy?" Lemon tweeted. "A man who puts kids in classrooms or one who puts kids in cages?"
Aug. 4, 2018, 11:34 a.m. Eastern: This story has been updated.