Trump actually admits meeting with Russians was to get dirt on Hillary Clinton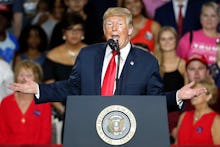 President Donald Trump admitted during an impassioned Twitter rant on Sunday that his son's controversial meeting with a Russian attorney during the 2016 campaign was, in fact, an attempt to get damaging information on Hillary Clinton.
The admission is a complete reversal from prior explanations of the meeting.
Trump tweeted Sunday that recent reports suggesting the president is concerned about his son Donald Trump Jr.'s legal fate were a "complete fabrication," before offering a new interpretation of his son's June 2016 meeting with Russian lawyer Natalia Veselnitskaya.
"This was a meeting to get information on an opponent, totally legal and done all the time in politics — and it went nowhere," Trump tweeted. "I did not know about it!"
His comments were part of a broader Twitter rant Sunday, which also included a tweet falsely claiming the press "purposely cause great division & distrust." The president's past comments decrying the press as an "enemy of the people" have incited anger among supporters at Trump rallies, and have been condemned by the United Nations as "strategic" and non-factual attacks that "increase the risk of journalists being targeted with violence."
Trump's admission that his son's 2016 Russian meeting was to get information on Clinton runs counter to the narrative he has previously pushed about the meeting. Trump Jr. initially claimed in a statement — which the president dictated himself — that he had "primarily discussed a program about the adoption of Russian children" during the "short introductory meeting." Trump's legal team defended the statement as "short but accurate" in a letter sent to Mueller in January, as quoted in the New York Times.
"They talked about the adoption stuff which was actually a big thing at the time, but nothing happened," Trump said in July 2017 about the meeting.
Trump, Jr. himself has offered conflicting statements about the meeting, telling Senate investigators in September that he wanted to "hear [the Russians] out" regarding their "information concerning the fitness, character or qualifications of a presidential candidate."
Emails arranging the meeting showed that Rob Goldstone, a former music publicist with ties to both Trump and Moscow, told Trump Jr. he had "official documents and information that would implicate Hillary [Clinton] and her dealings with Russia and would be very useful to your father," which was "part of Russia and its government's support for Mr. Trump."
"If it's what you say I love it," Trump Jr. responded.
Trump has recently come under fire for his own role in the 2016 meeting, as former Trump lawyer Michael Cohen claimed that the president knew about the meeting in advance — something Trump has previously denied.
The Trump administration's past attempts to characterize the meeting as part of normal campaign opposition research, as Trump reiterated Sunday, have been struck down; one Democratic campaign consultant told PolitiFact in July 2017 that the argument was "purposeful misdirection." Campaign finance law prohibits foreign nationals from making "a contribution or donation of money or other thing of value" in American elections, which legal experts have suggested Trump Jr. could have violated by accepting information — a "thing of value" — from a Russian source.
Trump lawyer Jay Sekulow nevertheless attempted to rationalize the 2016 meeting as legal in an interview Sunday on ABC's This Week. When asked by host George Stephanopoulos how a meeting arranged to get information on an opponent could be legal, Sekulow responded: "Well, the question is, how would it be illegal?"
"The real question here is, would a meeting of that nature constitute a violation of the law?" Sekulow continued.
"When you look at a meeting that took place a year before — now two years ago — the question is, what law, statute, rule or regulation's been violated, and nobody's pointed to one," Sekulow added.
"Well, they actually pointed to several, including conspiracy to defraud the United States," Stephanopoulos countered. "That would be one of the possible charges, or aiding and abetting conspiracy."
Former New Jersey Governor and Trump ally Chris Christie, meanwhile, offered a more tempered defense of the president's tweeting Sunday on ABC.
"Well the president, as we know, is not an attorney," Christie said Sunday. "And so the ability for his attorneys to be able to make the arguments they need to make on his behalf, as I've told him for a long time, is what he should permit them to do."