Coming up this week in politics: Voters head to the polls as Charlottesville anniversary arrives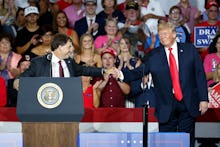 This will be a quiet week in Washington, as both the House and Senate remain on their August recess while President Donald Trump stays in Bedminster, New Jersey, on an 11-day vacation.
There will still be plenty going on in the political world, however, as voters in six states head to the polls for primary and special elections. Washington, D.C., will also see a different kind of political activity at the end of the week; white nationalist protesters and counterprotesters will head to the District of Columbia this weekend to mark the one-year anniversary of the deadly Charlottesville, Virginia, "Unite the Right" rally.
Here's what to expect from the week ahead in politics.
Elections: Voters in Kansas, Michigan, Missouri and Washington will head to the polls for primary elections Tuesday ahead of the November midterms, while Hawaiians will vote Saturday.
Races to watch include the Democratic gubernatorial primary in Michigan, as progressive doctor Abdul El-Sayed runs against former state Sen. Gretchen Whitmer to become America's first Muslim governor, and a "right-to-work" ballot measure in Missouri that will decide whether employees can be forced to join a union or pay union dues. Trump has weighed in on the Michigan Republican election for U.S. Senate, calling candidate John James "SPECTACULAR!" in a tweet endorsing the Iraq War veteran.
One of Trump's allies, Kansas Secretary of State Kris Kobach, will be one of the candidates vying for the Republican gubernatorial nomination in Kansas. Kobach, who is known as one of the country's most vocal proponents against alleged voter fraud, served as the vice chairman for Trump's failed "election integrity" committee, which was disbanded in January. More recently, Kobach's claims of voter fraud were disproven when a federal judge struck down Kansas' "proof of citizenship" voting law — and ordered Kobach to undergo legal education based on his conduct as the lawyer defending the law.
In addition to this week's primary elections, voters in Ohio will head to the polls Tuesday for a special U.S. House of Representatives election for Ohio's 12th Congressional District. The matchup between Democrat Danny O'Connor and Republican state Sen. Troy Balderson will mark the last Democrat-Republican matchup ahead of the November midterms, in a district that went to Trump in 2016 with just 53% of the vote. Cleveland.com noted that only two Democrats have been elected in the district since 1920, meaning that a win for O'Connor could be a strong rebuke against Trump.
Trump campaigned for Balderson at a rally in Ohio Saturday, where he praised the candidate as "really smart" and a "really hard worker."
Manafort trial: Former Trump campaign manager Paul Manafort's trial will continue this week in Virginia. The trial for tax evasion and bank fraud, which began Tuesday, has so far included evidence detailing Manafort's lavish lifestyle — and wardrobe choices. Witnesses have also testified that Manafort sent false income statements to banks while keeping his foreign bank accounts under wraps, strengthening special prosecutor Robert Mueller's case against Manafort.
The highlight of this week — which could be the trial's last — will be when Manafort associate Rick Gates takes the stand. Gates, who was charged alongside Manafort and has already pled guilty, has been a key part of Manafort's defense. The former campaign manager's legal team has alleged that Gates was the true perpetrator of the financial crimes and Manafort was simply a "victim" — a strategy that former federal prosecutor Patrick Cotter told Mic has a "very low likelihood of success."
Rand Paul heads to Russia: Kentucky Sen. Rand Paul will spend his recess in Russia, where he's expected to meet with Russian officials during a trip aimed at "supporting President Donald Trump engaging around the world." Paul has been a supporter of Trump's controversial relationship with Russia and Russian President Vladimir Putin, describing those critical of Trump's dealings with Putin as simply "people who hate the president."
"In just a few weeks, I will take my own trip to Russia in an attempt to discuss common ground with their leaders and help prevent further, unnecessary escalation of tensions," Paul wrote in an op-ed for Politico praising Trump's Putin meeting July 16. "We will discuss trade, cultural exchanges and how to better work for peace and prosperity in the world."
Paul's Russian trip comes soon after a coalition of eight Republican members of Congress traveled to Russia over the Fourth of July, where they met with Russian politicians — and faced criticism at home for doing so.
Charlottesville anniversary: White nationalists are planning to hold a "Unite the Right 2" rally Sunday at Lafayette Square in Washington, D.C., marking the one-year anniversary of the contentious Charlottesville rally that left one woman dead.
Far-left counterprotesters, including anti-fascist groups and Black Lives Matter, are planning to hold a separate protest Sunday as part of a broader weekend of events dubbed "Shut it Down D.C." The protest will take place in Freedom Plaza, blocks away from the white nationalist rally.
Students and activists at the University of Virginia are also planning to mark the anniversary with a Rally for Justice on Saturday night at the campus' Rotunda, where last year's white nationalist rally took place. On the rally's Facebook event page, organizers called on attendees to "reclaim the North Plaza of the Rotunda and demand justice for those who have suffered at the hands of white supremacy."