Hype Daily: Demi Lovato speaks out, TCA Awards winners and more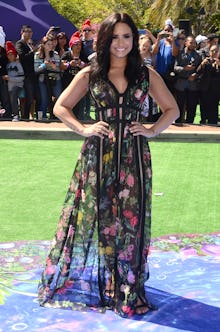 Welcome to Hype Daily, Mic's morning entertainment roundup. Here's everything you need to catch up on in the entertainment world and what to look forward to today. Want to receive this as a daily email in your inbox? Subscribe here.
Good morning from Hype reporter Anna Swartz.
Demi Lovato posted a new message to her Instagram account
In her first public statement since being hospitalized for what was reportedly a drug overdose in July, singer Demi Lovato posted a message to her Instagram Sunday, updating fans about what she called her "journey with addiction" and thanking her family, her "team" and the staff of Cedars-Sinai Medical Center.
"To my fans, I am forever grateful for all of your love and support throughout this past week and beyond," she wrote. "Your positive thoughts and prayers have helped me navigate through this difficult time." She added she needs "time to heal and focus on my sobriety and road to recovery." Lovato has been open about her struggle with addiction, notably in her song "Sober," released in June. The lyrics seemed to allude to a recent relapse.
Lovato ended her message by saying, "I look forward to the day where I can say I came out on the other side. I will keep fighting." Read the full post on her Instagram here.
The Americans wins big at the Television Critics' Association awards
The annual Television Critics' Association Awards happened Saturday in Beverly Hills, California, and the night's big winner was the FX spy drama The Americans, which aired its series finale in May. The show won for program of the year and outstanding achievement in drama, and star Keri Russell won for her performance.
Other notable winners were NBC's The Good Place, which won for outstanding achievement in comedy, and BBC America's Killing Eve, which won for outstanding new program. Oh, and Rita Moreno was honored with a lifetime achievement award.
Patrick Stewart is coming home to Star Trek
Calling all Trekkies! Patrick Stewart, who played Jean-Luc Picard in Star Trek: The Next Generation, will reprise his role in a brand new Star Trek series, the Hollywood Reporter reported Saturday. The new series, which doesn't have a premiere date or a title yet, will air on CBS All Access.
In a statement, Stewart said he felt it was time to reprise his role in the world of Star Trek. "During these past years, it has been humbling to hear many stories about how The Next Generation brought people comfort, saw them through difficult periods in their lives or how the example of Jean-Luc inspired so many to follow in his footsteps, pursuing science, exploration and leadership," he said. "I feel I'm ready to return to him for the same reason — to research and experience what comforting and reforming light he might shine on these often very dark times."
At a press event, CBS execs fielded questions about Les Moonves
Speaking at a press event Sunday, CBS entertainment president Kelly Kahl took questions from reporters about CBS CEO Les Moonves, who was publicly accused of sexual harassment and unwanted touching in a July report in the New Yorker. "Leslie has been an excellent boss and a mentor for a long time," Kahl told the crowd, according to Entertainment Weekly. "He put me in this job. At the same time, we must respect the voices that come forward. All allegations need to be and are being taken seriously."
Fielding questions from reporters, Kahl defended the culture at CBS and the work of the network's human resources department, which he called "very thorough." When asked about NCIS: New Orleans producer Brad Kern — who has been investigated at least three times at the network for allegations of sexual harassment, offensive comments and discrimination — Kahl said, CBS has "started another investigation with outside counsel" to examine the allegations against Kern.
Put this on your radar: The Overthinker
Actor and comedian Demetri Martin's new comedy special The Overthinker, his first comedy special since 2015, premieres Aug. 10 on Netflix. His distinctive thing is using little drawings and charts to illustrate his dry, understated humor. Check out a trailer.