Today in Trump's America: Trump admits to lying about Trump Tower meeting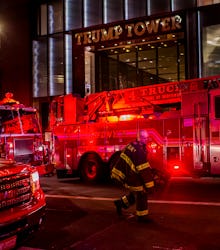 Welcome to Mic's daily read on Donald Trump's America. Want to receive this as a daily email in your inbox? Subscribe here.
Good morning from Emily Singer at Mic.
Check out Mic Dispatch, Mic's new show reporting on the problem-solvers and the provocateurs in our changing world. Subscribe here for alerts on new episodes airing Tuesdays and Thursdays, 8 p.m. Eastern, on Facebook Watch.
Here's what's happening in Trump's America:
• Trump is still on his 11-day vacation at his New Jersey golf club. As such, there are no public events on his calendar.
About the weekend: Trump admits to lying about infamous Trump Tower meeting for more than a year
Trump admitted Sunday what everyone has suspected for a year: The statement he helped dictate about his son Donald Trump Jr.'s meeting with Kremlin-connected lawyers in Trump Tower in 2016 was a lie, and the first son did in fact meet with the lawyer to get dirt on former Democratic presidential nominee Hillary Clinton.
"Fake News reporting, a complete fabrication, that I am concerned about the meeting my wonderful son, Donald, had in Trump Tower," Trump tweeted Sunday. "This was a meeting to get information on an opponent, totally legal and done all the time in politics - and it went nowhere. I did not know about it!"
The statement is one of the things special counsel Robert Mueller's team is probing in its investigation into whether the Trump campaign conspired with Russians to help their interference in the 2016 election. And the statement could put members of the Trump campaign in legal jeopardy, as it's illegal to accept aid from foreign governments for American political campaigns.
According to federal law, it's illegal to receive "a contribution or donation of money or other thing of value, or to make an express or implied promise to make a contribution or donation, in connection with a Federal, State, or local election." Given that damaging information on a political opponent is a "thing of value," this meeting opens the Trump campaign up to legal risk.
Even if Mueller's team determines the meeting was not illegal, Trump's tweet shows he and his spokespeople lied for more than a year about the meeting and the statement written once the meeting was exposed.
Former White House press secretary Sean Spicer said at a daily press briefing in July 2017 that, "there was nothing, as far as we know, that would lead anyone to believe that there was anything except for a discussion about adoption and the Magnitsky Act." We now know that is a lie.
In an Aug. 1, 2017 daily press briefing, current White House press secretary Sarah Huckabee Sanders was asked about the Trump Tower meeting statement the president dictated.
"The statement that was issued was true, and there were no inaccuracies in the statement," Sanders said at the time, which we now know is also a lie.
Former Trump lawyer Jay Sekulow said at the time Trump didn't dictate the Trump Tower statement, but on Sunday admitted that wasn't true.
"I had bad information at that time and made a mistake in my statement," Sekulow said on ABC News' This Week.
The admission and revelation that Trump and many around him blatantly lied about the Trump Tower meeting further diminishes the administration's credibility. It also makes it more understandable that Trump's lawyers want to prevent him from sitting down with the special counsel and his investigators, given Trump's penchant for lies and untruths. Lying to federal agents is a crime.
Today in Trump's America: Manafort trial heads into second week
Former Trump campaign chairman Paul Manafort's trial continues Monday, as prosecutors make their case that Manafort committed bank fraud and tax evasion in order to keep up a lavish lifestyle he built with money from foreign political consulting.
The first week of the trial portends bad news for Manafort, as the prosecution has already poked holes in his defense strategy of blaming the crimes on his former associate, Rick Gates.
Prosecutors have called to the witness stand former accountants and bookkeepers who worked for Manafort and testified Manafort directly ordered them to falsify bank records and personally lied to them about how much money he had parked overseas and was using to purchase goods and services in the United States.
Given Manafort is trying to pin the crimes on Gates — who has already pleaded guilty to a count of conspiracy against the United States and lying to federal investigators — the testimony was problematic, to say the least, for Manafort's defense.
Gates is now the prosecution's star witness, and his expected testimony in the trial could come as early as this week.
And the rest…
Ohio special election: A special election in a reliably red House seat in Ohio will take place Tuesday, and Republicans are exceedingly nervous about their prospects. Republican groups have dumped hundreds of thousands of dollars into the race in the final days to boost their candidate to victory. It's possible their final influx of cash could push the GOP over the edge. But the fact that they had to spend this kind of money in a district this Republican is a troubling sign for the party in November, as there are many more competitive seats far less Republican than this one come November.