Alex Jones' InfoWars content removed from Facebook, Apple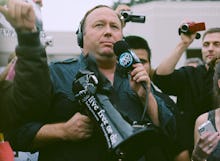 Facebook announced Monday that it has removed four InfoWars pages by conspiracy theorist Alex Jones.
InfoWars is a right-leaning online show that regularly discusses conspiracy theories, from calling the Sandy Hook school shooting a hoax to convincing viewers that one of Lady Gaga's shows was a satanic ritual. Jones' videos are seen by millions on sites like YouTube and Facebook.
In recent weeks, several online platforms have removed Jones' content from their sites. In late July, YouTube removed four videos and one channel belonging to the host (the company fully banned the host from their site in the afternoon of on Aug 6). Soon after, Spotify removed Jones' podcasts from their platform as well. Apple removed the host's shows from its podcasts section, BuzzFeed News reported late on Sunday.
Facebook's removal of Jones' pages follows criticism of CEO Mark Zuckerberg's interview with Recode in July. Zuckerberg explained that Jones had many facts wrong but that alone isn't a reason to remove a page from Facebook. "The approach that we've taken to false news is not to say, you can't say something wrong on the internet," Zuckerberg said. "I think that that would be too extreme."
Zuckerberg stood by this claim even when considering Holocaust deniers that spread their theories on Facebook. "If you're not trying to organize harm against someone, or attacking someone, then you can put up that content on your page, even if people might disagree with it or find it offensive," Zuckerberg said.
People directly affected by fake content online have spoken out against Zuckerberg's stance. Leonard Pozner and Veronique De La Rosa, parents of the Sandy Hook shooting victim Noah Pozner, penned a letter in the Guardian sharing their experiences since the shooting.
"We have endured online, telephone and in-person harassment, abuse and death threats," the letter stated. "In fact, one of the abusers was sentenced to jail for credible death threats that she admitted in court she had uttered because she believed in online content created by these 'fringe groups.'"
Aug 6, 2018, 1:00 p.m. ET: This story has been updated