'Mic Dispatch' episode 7: Designer BCalla on why he doesn't label his clothing as queer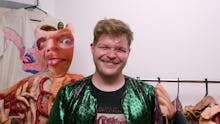 Brad Callahan has outfitted some of the biggest names in music — Gaga, Miley, Azealia — and some of the biggest names in drag — Aquaria, Violet, Aja. But Callahan, who goes by the moniker BCalla, is anything but your typical designer. He seeks inspiration from anime and comic books in addition to Thierry Mugler and Jean Paul Gaultier.
BCalla has also made a name for himself by refusing to conform to cisgender or heteronormative standards within fashion.
"When I first moved to New York, I was interning a lot with fashion brands and a lot of even gay brands would get very nervous around how their brand was positioned," Callahan said. "They didn't want to use the trans model, or didn't want the drag queen to pull it because they didn't want to become one of 'those brands.' What has really helped me with my personal brand is that I see you as a good model or as a good performer."
I sat down with Callahan in his downtown Los Angeles studio to learn more about his experience working with some of today's top talent and how his queer identity informs his work.
Check out episode seven of Mic Dispatch above — only on Facebook Watch.
To catch future episodes of Mic Dispatch, follow Mic Dispatch on Facebook Watch. For more stories about the show, visit the Mic Dispatch collections page.