Love and Money: How to pick the best wedding registry for you (and your guests)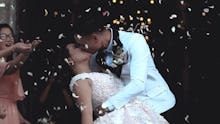 Not long ago, buying a wedding gift off a registry meant you actually had to go to a store like Bed Bath and Beyond, share the couple's names and have their list printed out so you could go scour the shelves for the right chafing dish. Today, the process takes about two seconds longer than "liking" the couple's engagement photo on Instagram. In fact, you could theoretically order gifts from your phone as you sit waiting for a couple to walk down the aisle.
Modern registry companies and sites are constantly innovating and offering new rewards to compete for your business, with discounts, bonus gifts and fun user experiences for both the couple and their guests. The only issue with this market is that it can be a little overwhelming to choose the right registry. Here's a breakdown of the coolest offerings.
If you want convenience: Amazon
The retail behemoth is already how so many couples buy everything from toothpaste to furniture for their homes. Its interface and massive selection are features that both the betrothed and their guests are typically familiar with, making registering with the site a seamless experience. Some of the benefits include:
• Shop by style, by brand, popular picks, or check out editors' picks
If you want rewards galore: Zola
This massive startup has established itself as a one-stop shop for every possible organizational need related to one's wedding, including, of course, the registry. Some of the benefits include:
• Free wedding website where couples can share details of the big day
This innovative digital registry is just plain fun to use for couples and guests alike. A virtual layout of each room helps couples organize and determine which gifts will go where, and how nice they'll look together. Some of the benefits include:
If you want everything wedding-related in one place: The Knot
Like Zola, the Knot offers a combination of universal registry and free wedding website, so guests can find out all the travel and accommodations details, and then click over to buy the couple a gift while they're at it. Easy! Some of the other benefits include:
• The option to take part in the Knot Gifts Back program, where the Knot will donate 3% of the price of each gift purchased to the charity of the couple's choice at no cost to the guests or couple
If you just want cash: Tendr
Who doesn't appreciate cold, hard cash? Tendr is a popular site that allows guests to just send the couple money, with a beautiful user experience. Some of the benefits include:
• Free for the couple to receive the cash
If you just want to travel: Honeyfund
Honeyfund was the original site to popularize the crowd-funded honeymoon concept, though couples can also use it to request funds for a home or donations to charity. Some of the benefits include:
• Free wedding website
If you want fewer steps in the honeymoon process: Honeymoon Wishes
While Honeyfund is the original, competitors like Honeymoon Wishes have built off and in some cases improved their model. This site allows the option of transferring the money to pay for their partnered hotels (as opposed to Honeyfund, where couples are really just gathering funds). This site removes a step so the guests can contribute to something they know the couple will experience. Some of the other benefits include:
• Free wedding website
If you're looking to buy a home:
While any of the cash-raising websites above can be used for a home, this site is dedicated to that cause and thus may feel a bit more special for your guests. In this case, the money is transferred immediately to the couple's bank account for convenience.
If you want to give back (or truly don't want any gifts): The Good Beginning
Is all this cash exchange and gift-grubbing making you queasy? The Good Beginning lets couples choose a charity and note why it means so much to them, and makes it easy for guests to donate online. Some of the benefits include:
• Couples can choose up to five charities
Seven Hopes United is a place where couples can create an online registry of Fair Trade gifts. Ad the site notes, if every American made one Fair Trade purchase per year, it would lift 1 million families out of poverty. Some of the benefits include:
• Hundreds of gifts, like spice spoons by Kenyan artisans or hand-blocked Indian napkins
If you still want the classic registry experience...
Classic department stores and brick-and-mortar shops still allow the rom-com experience of strolling through the aisles with a registry gun, browsing items and fantasizing about this new life you're creating. Some relatives will appreciate an old-school option where they can go pick up your gifts in person, and everyone else can still order online.
Like the sites above, many chains offer a "completion discount," where the couple can buy any remaining gifts that weren't purchased for a percentage off: Macy's gives 20% off, Target and Kohl's are 15% off, and 10% is standard at Pottery Barn, Crate and Barrel, JCPenney, Neiman Marcus, Best Buy, the Container Store, Restoration Hardware, West Elm, Sur La Table and Williams Sonoma.
Crate and Barrel, Target, Neiman Marcus, and Williams Sonoma all help couples keep track of who bought what item off the registry in order to help couples with their thank-you notes. Many offer group gifting, where several people can contribute a chunk of money toward larger items (say, over $100). You'll find that feature at Ikea, Target, Best Buy and Container Store.
To really sweeten that in-store moment, West Elm, Bed Bath and Beyond, Crate and Barrel and Williams Sonoma all offer private time with their own registry consultants or design experts, so a couple can sit down with a staffer and take a bird's-eye look at their gift list. That person can help you figure out if those dishes complement these curtains (or just let you know how many sets of dishes you should ask for in the first place).