Republicans are scrambling to save a House seat in a deep-red Ohio district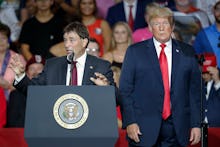 A special election in Ohio's 12th District on Tuesday could be bad news for Republicans no matter what the outcome is, as the party is scrambling to defend a historically red seat that President Donald Trump carried by an 11-point margin in 2016.
So far, Republican outside groups have spent nearly $6.2 million to both support the Republican nominee in the central Ohio district, state Sen. Troy Balderson, and knock down the Democratic candidate, Franklin County Recorder Danny O'Connor. Much of that money has come in the final days of the contest, with polls showing an increasingly close race.
In a sign he has the momentum going into the home stretch, O'Connor has dug into Balderson's lead as the race comes to a close. In fact, a poll from Emerson College released on Monday shows O'Connor edging out Balderson, 47% to 46%. It's the first public poll to show O'Connor ahead.
Even if Balderson wins, such spending among Republicans will be hard to sustain in November, given that there are 72 more seats in play in the fall that are more competitively drawn than Ohio's 12th District, according to the Economist's G. Elliott Morris. And since Democrats need 23 seats to win control of the House, winning a seat as Republican as this one would be a good indicator that Democrats are well within reach of the majority.
"I think if I had to bet money, I'd bet on Balderson over Danny because the district is what it is," one Ohio Democratic strategist, granted anonymity to speak freely about the race, told Mic by phone on Monday. "But it's clear that the district is way more competitive right now than it ever has been, and that's a good sign for Danny and for Democrats."
Republicans have pulled out the big guns in the final days of the contest, running ads with popular Ohio Republicans such as Gov. John Kasich and Sen. Rob Portman endorsing Balderson's bid. Trump also campaigned for Balderson in the district on Saturday night, an effort to remind Republican voters about the election and to get out to the polls.
For the most part though, GOP ads have been negative, tying O'Connor to House Minority Leader Nancy Pelosi, Republicans' main boogeywoman, in ordet to rally their base.
"The liberal resistance movement made central Ohio their target, and Danny O'Connor their candidate," a narrator says in an ad from the National Republican Congressional Committee. "O'Connor is a vote to make Nancy Pelosi Speaker. Stop Danny O'Connor."
In fact, the strategy is a lot like the one Republicans ran against now-Rep. Conor Lamb in Pennsylvania's special election in March.
In that race, Republicans abandoned their pro-tax-reform message and instead ran ads tying Lamb to Pelosi and national Democrats. Their strategy failed.
The race in Ohio's 12th District could play out similarly.
Like the Republican candidate in the Pennsylvania contest, Balderson is a run-of-the-mill Republican who was outraised by his Democratic opponent — O'Connor raised $1.44 million while Balderson raised $1.26 million.
Like Lamb, O'Connor is a younger Democrat without a long electoral record to criticize. He's also similar to Lamb in that he's a more moderate Democrat who has said he won't vote for Pelosi for speaker, and has made the race about health care — a top issue on voters' minds in the midterm season.
Election experts caution that after polls close on Tuesday, early votes are expected to favor O'Connor, according to the New York Times' Nate Cohn. But O'Connor's margin is expected to diminish as ballots cast on Tuesday come in.
In order to win, Democratic strategists told Mic that O'Connor needs to run up the score in the small sliver of the district located in Franklin County, which has a more Democratic-leaning electorate, and Balderson needs to do well in Licking County, which is the more rural area of the seat.
Results from the section of the district in Delaware County will also be telling.
"If one or the other is doing very well there, then that's a good sign for whoever is doing well there," the Democratic strategist said.
Polls in the contest close Tuesday at 7:30 p.m. Eastern.