'Who Is America?' episode 4: Who did Sacha Baron Cohen dupe in the latest episode?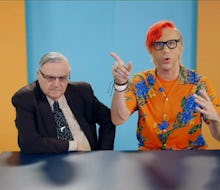 The fourth episode of comedian Sacha Baron Cohen's political satire Who Is America? aired on Showtime Sunday night, and much like previous episodes, this most recent one was dark, sometimes funny and often hard to watch. Each episode features Cohen, disguised with wigs and prosthetics, interviewing unwitting participants from extreme ends of the political spectrum.
Much like the title character in his breakout film Borat, Cohen's characters in Who Is America? say things that are outlandish — or straight-up offensive — allowing his interview subjects to either expose themselves by agreeing with him or futilely debate his character's wild views. So who did Cohen dupe in episode four, and what did his victims have to say about it? Let's find out, shall we?
Shaun McCutcheon and Zan
The first segment of Sunday night's episode of Who Is America? has Cohen in character as Erran Morad, a gun-loving Israeli "terrorism expert," teaching outspoken conservative and Trump supporter Shaun McCutcheon what to do if an "Islamic terrorist" attacks his workplace, something McCutcheon said he is very concerned about. In the episode, Cohen-as-Morad teaches McCutcheon, and his employee Zan, whose last name isn't mentioned, tips that include waving ham at terrorists or wearing a ridiculous-looking hat made of office supplies as a disguise.
Morad also (somehow) convinces McCutcheon to try to blend in with the terrorists by putting on a gold turban and a purple cape to pretend to be a snake charmer. McCutcheon addressed his appearance on Who Is America? in some tweets Sunday night, claiming that he knew the whole time it was comedy. "Hope you like it. We knew the guy was full of it," he wrote in one tweet. In another he said, "I did not know who the guy was but I knew he was full of crap."
David Pyne
In a two-part segment from Sunday night's episode, Cohen appeares as his character Dr. Nira Cain-N'Degeocello, an over-the-top social justice warrior who named his fake son Harvey Milk and has repeatedly brought up the fact that he lives in a yurt. Cain-N'Degeocello interviews Utah Republican Assembly national director David Pyne, an anti-porn advocate who thinks there should be prayer in public schools and abstinence-only sex education.
Cain-N'Degeocello tries to get Pyne to join him in "reclaiming" the word "pedophile" and later shows off a very graphic children's book that is ostensibly meant to teach kids about porn. Pyne seems skeptical throughout his whole appearance, eventually telling the disguised Cohen, "You have caused me to have more negative energy than I've ever had." He doesn't seem to have made any public statement about his turn on the show, but it may put his mind at ease to know that the rabbit-sex children's book isn't heading to print anytime soon.
"One of the world's top yacht brokers"
Cohen's Gio Monaldo, a playboy billionaire character who exists to satirize the bizarre and cruel excess of the mega-rich, appears in the third segment of Sunday night's episode. Monaldo meets with an unnamed "yacht broker" about buying a custom luxury yacht — and the interview becomes harder and harder to watch as Monaldo, who hints that his yacht is actually for Syrian despot Bashar Assad, asks for cruel upgrades and the anonymous yacht salesman happily assures him that anything is possible, for a price.
The "yacht broker" promises Monaldo they can find a way to electrocute refugees in the water and to create rooms that will fit up to 30 "girls" who, Monaldo seems to say, would be trafficked for sex. He gamely says he has no problem at all helping to secure a yacht for Assad, who has been accused of horrifically gassing citizens of the country he rules. And he doesn't bat an eye when Monaldo seems to be getting a blowjob under a blanket during their face-to-face meeting.
We still don't know the identity of this "yacht broker," so who knows what his response was when he discovered that his interview would be broadcast to the world.
Joe Arpaio
In another cringe-inducing segment, Cohen plays a fake Finnish YouTuber named OMGWhizzBoyOMG, who unboxes toys on video. His guest is former Arizona sheriff Joe Arpaio, who is infamous for opening an outdoor jail that he referred to as a "concentration camp." Arpaio was convicted in July 2017 for criminal contempt, after he refused to obey a court order to stop racially profiling Latino people. President Donald Trump pardoned him in August 2017.
In his segment on Cohen's show, Arpaio seems mostly confused, warning a small toy donut about the importance of guns, and saying "I might have to say yes" when OMGWhizzBoyOMG asks him if he would accept a blowjob from Trump.
Arpaio already spoke to the press about his appearance on Cohen's show, telling the Arizona Republic in July that he had been duped — something he only realized after Sarah Palin spoke out about her experience with Cohen. Speaking to the Arizona Republic again on Monday, Arpaio said, "I don't even understand what the guy's talking about. I was not entertained. It was very boring, believe me. ... I don't think this guy got me."