At Greyston Bakery, no resumes or interviews are required to land a job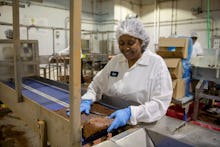 In 2004, Dion Drew was sentenced to four years in prison for selling drugs. "Everyone was doing it in my neighborhood," Drew said in a phone interview. "I did it to help my mom because she couldn't support my brothers. But when I came home, I decided I wanted a better life. I immediately looked for work, but no one would give me the opportunity — everybody was talking about my past."
For those who were formerly incarcerated, re-entry into society can be harrowing. According to a poll by the New York Times, CBS News and the Kaiser Family Foundation, about nine out of 10 employers in the U.S. screen for criminal histories when hiring for at least some positions, and men with a criminal record between the ages of 25 and 54 account for 34% of unemployed males in the U.S.
According to a five-year study following offenders released from the Indiana Department of Correction, both an offender's education and post-release employment were significantly correlated with recidivism.
Long-term unemployment for people with criminal records is common, and more than 60% of formerly incarcerated individuals remain unemployed a year after release.
For 36 years, one New York bakery has incorporated "open hiring" into its recruitment process, a model based on removing biases during the job application process, and it hopes to share its practices with other businesses in order to provide opportunities for those struggling to find jobs.
As part of its open hiring practices, Greyston Bakery in Yonkers, New York, has eliminated background searches, criminal history inquiries and resumes from much of its recruiting process; the only determining criteria is an applicant's physical ability to work. "We're big supporters of banning the interview," Mike Brady, president and CEO of Greyston Bakery, said. "And welcoming people into your organization rather than screening them out."
Open hire roles at Greyston are known as apprenticeships and typically involve roles on the facility's assembly line, helping to make brownies for clients such as Ben & Jerry's and Whole Foods.
Its open hiring model first started with the bakery's creator, Bernie Glassman, a aeronautical engineer and Buddhist monk, who staffed the bakery's manufacturing facility with homeless employees. Since then, according to Brady, the bakery has created over 3,500 job opportunities in Yonkers, where 17% of the population lives below the poverty line (the national average is 14%).
Of Greyston's workforce, 65% of the employees have been unemployed long-term, including formerly incarcerated individuals, immigrants and those with disabilities, Brady said. Drew said he has spent nearly a decade at Greyston, having been promoted from apprentice to supervisor during his career.
"I know 90% of Yonkers, and for them to see me sell drugs the majority of my life and now I'm turning my life around by working is a good thing," he said.
There are cases when open hire employees don't work out, Brady said. "If you come to us with your challenges, we'll help you overcome [them]. But we've had people not show up to work and let them go." Approximately 60% of apprentices choose to leave Greyston Bakery, rather than advancing into other roles there.
The open hiring model isn't new, especially in the food world. In fact, other bakeries like the Brooklyn-based Ovenly have incorporated similar hiring practices.
But Greyston hopes to provide a model for other organizations with the launch of its Center for Open Hiring, a learning space at its facility designed to partner with businesses and promote inclusivity in recruiting. Such initiatives include education and training of Greyston's hiring model to recruiters and the development of similar open hiring practices.
"We would love an organization to take a simple step forward and ask, 'Why do we have background checks?,'" Brady said. "We need leaders to be willing to say, 'Things have to change and I'm going to take steps with my business to make that change happen.'"
Inclusive hiring practices have their benefits for business too, Brady said, including little recruitment and onboarding costs. "HR isn't spending hours interviewing," he said. "All the dollars that you might be spending on filtering people out, we invest in making people successful, not only on the job training but support services they need, like transportation, housing, childcare, things we know people new to the workforce might deal with."
Open hiring does have limits, and with companies like Starbucks making efforts to become more inclusive in the wake of public relations disasters, it's easy to be critical of businesses putting a value on inclusivity. For one, industries that require formal education or certification wouldn't fit this model, Brady said. But the center hopes to educate businesses by advising them to open hire for specific roles — rather than across companies — such as jobs in call centers or warehouse distribution, he said.
Since its launch last month, the Center for Open Hiring has begun working in the community of Rochester, New York, Brady said. Rochester is the only city of its size where over 50% of children live in poverty. "It's a sad state," he said of the city, where he grew up.
Brady said he hopes other businesses take note of the center and Greyston's hiring process so that populations can benefit from unbiased recruitment. "You have a way to change your life," he said. "We have a list and if you put your name on it, you get a call. It's simple."