Mic Daily: Court orders Trump to reinstate DACA, Apple fights back against Alex Jones and more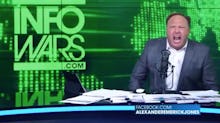 Welcome to Mic Daily: Mic's newsletter that cuts through the noise and lands in your inbox every weekday. We carefully curate each edition to send you a cross section of our most vital stories of the day. Want to receive this as a daily email in your inbox? Subscribe here.
Want more entertainment news in your inbox instead? Sign up for Hype Daily — Mic's morning entertainment roundup. It's got all the news you need to start your day.
A federal court on Friday ordered the Trump administration to fully reinstate the Deferred Action for Childhood Arrivals program — but an upcoming hearing means the program's future is still in doubt.
When it screened at Cannes, BlacKkKlansman earned a standing ovation — and for good reason.
InfoWars is a right-wing web show hosted by Alex Jones that regularly peddles conspiracy theories — perhaps most infamously, calling the Sandy Hook school shooting a hoax. Facebook announced Monday it had removed four InfoWars pages, adding momentum to a growing movement among social media networks taking action against his program.
The fourth episode of comedian Sacha Baron Cohen's political satire Who Is America? aired Sunday night on Showtime, and much like previous episodes, this most recent one was dark, sometimes funny and often hard to watch.
Each episode features Cohen, disguised with wigs and prosthetics, interviewing unwitting participants from extreme ends of the political spectrum. This week, one of his interview subjects was former Arizona Sheriff Joe Arpaio.
It happened quickly on Friday morning: One moment, 18-year-old Sergio Salazar was loping around the "Occupy ICE" encampment in San Antonio, Texas, where he and a contingent of other high school and college-age kids had been staked out in nonviolent protest for weeks. The next, he was being hoisted into the back of a van, shackled and interrogated by the FBI.