Transgender athlete Terry Miller is reigniting questions about fairness in sports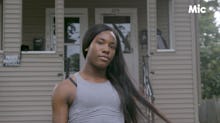 The world of Connecticut high school track and field has become embroiled in controversy after the recent athletic success of two transgender students, Terry Miller and Andraya Yearwood. Miller and Yearwood have been garnering accolades, to the dismay of Bianca Stanescu, a parent whose daughter lost to the athletes in competition. Stanescu has started a petition to have the scores of trans athletes be counted against the scores of their male counterparts, saying that in sports, "it's the body that's competing."
The success of Miller and Yearwood have reopened a decades-long conversation about transgender participation in sports, and whether or not sports can ever be a level playing field.
Check out this segment in episode seven of Mic Dispatch above — only on Facebook Watch.
To catch future episodes of Mic Dispatch, follow Mic Dispatch on Facebook Watch. For more stories about the show, visit the Mic Dispatch collections page.