Rick Gates admits to committing crimes with Paul Manafort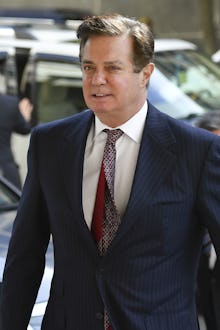 Rick Gates, the former associate to former Trump campaign chair Paul Manafort, testified in a Virginia court on Monday that the two men committed crimes together, including willfully evading taxes by not reporting income they put in foreign bank accounts in Cyprus, according to multiple reports from inside the courtroom.
"Did you commit crimes with Mr. Manafort?" a prosecutor asked Gates. He responded, "Yes."
Among the crimes Gates testified to doing with Manafort include: knowingly hiding 15 foreign accounts from the government; stealing hundreds of thousands of dollars from Manafort by filing false expense reports, which were paid from Manafort's offshore accounts; and filing false tax returns, in which the men under-reported their income, created fake loans and failed to disclose their foreign accounts.
Gates said that he did all of those crimes "at the direction of Mr. Manafort," CNN reported.
Gates already pleaded guilty in February to one count of conspiracy against the United States and another count of making false statements to federal investigators. In exchange for his plea, Gates agreed to testify against Manafort.
Gates' testimony began on Monday and will likely continue into Tuesday, when Manafort's defense attorneys will cross-examine him.
Manafort's defense hinges on convincing a jury that it was Gates, not Manafort, who committed all of these crimes, and that Manafort is a victim of Gates.
Renato Mariotti, a former federal prosecutor, said, however, that Gates' testimony will be key for the jury and their deliberations.
"This is typically the most important testimony that a "flipper" can give prosecutors — an admission that they committed crimes along with the defendant, along with an explanation of how they did it," Mariotti tweeted on Monday. "It gives jurors an inside look at the criminal scheme."