'Mic Dispatch' episode 7: Trans athlete Terry Miller; fashion designer BCALLA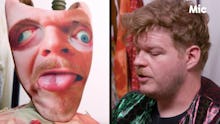 On this edition of Mic Dispatch, correspondent Serena Daniari travels to Connecticut, where the high school track and field community has become embroiled in controversy after the recent athletic success of transgender student Terry Miller. Miller has been garnering many track and field accolades, to the dismay of parents like Bianca Stanescu, whose daughter lost to Miller in competition.
Stanescu has since started a petition to have trans athletes' scores be counted against the scores of their male counterparts. She says in sports, "It's the body that's competing." In this segment, Daniari explores this decades-long conversation about trans people's participation in sports, and whether sports can ever be a level playing field.
Next up, we profile designer Brad Callahan, aka BCALLA, who's designed costumes for some of the biggest pop stars — from Lady Gaga to Miley Cyrus to Azealia Banks. Callahan has also designed for some of the biggest names in drag, like Aquaria, Violet and Aja.
Callahan's designs are anything but typical — and it shows. He takes his inspiration from anime, comic books, Thierry Mugler, Jean Paul Gaultier and more — all the while refusing to conform to cisgender or heteronormative standards within fashion. In this segment, Katz delves into Callahan's experience working with some of today's top talent and how his queer identity informs his work.
Check out episode seven of Mic Dispatch above — only on Facebook Watch.
To catch future episodes of Mic Dispatch, follow Mic Dispatch on Facebook Watch. For more stories about the show, visit the Mic Dispatch collections page.