Hype Daily: Trump might lose his Walk of Fame star, Dave Bautista takes a stand and more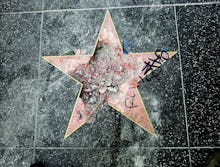 Welcome to Hype Daily, Mic's morning entertainment roundup. Here's everything you need to catch up on in the entertainment world and what to look forward to today. Want to receive this as a daily email in your inbox? Subscribe here.
Good morning from Hype reporter Anna Swartz.
West Hollywood voted to permanently remove Trump's star from the Walk of Fame
The West Hollywood City Council (did you know it was a separate city?) voted on Monday to try to permanently remove President Donald Trump's star on the Hollywood Walk of Fame, Entertainment Weekly reported. On Monday night, West Hollywood Mayor John Duran tweeted "West Hollywood City Council unanimously passes resolution asking the Hollywood Chamber of Commerce to remove the Donald Trump star on Hollywood Walk of Fame."
So it seems like now it's up to the Hollywood Chamber of Commerce to decide whether or not to follow through. Trump's star has been vandalized multiple times, most recently by someone who smashed it with a pickaxe in July.
Johnny Depp's Notorious B.I.G. film has been abruptly pulled from theaters
Remember how alleged abuser Johnny Depp was going to star in a movie about the murder of rapper Notorious B.I.G.? Well the film, titled City of Lies, has been pulled from theaters a month before its scheduled Sept. 7 release, the Hollywood Reporter reported on Monday. In the film, Depp plays Los Angeles Police Department detective Russell Poole, who investigated Biggie's still-unsolved murder for years.
No new release date has been set. It's not clear why the film was yanked from theaters so close to its scheduled release, but Depp was recently sued by a former City of Lies crew member who said that Depp punched him on set in 2017. Don't worry about Depp though – he's still starring in the upcoming Harry Potter prequel-sequel Fantastic Beasts: The Crimes of Grindelwald, despite a fan push to recast his role.
Dave Bautista says he's willing to walk away from Guardians over James Gunn
The cast of the Guardians of the Galaxy films have been vocal in their support of director James Gunn, who was fired from the franchise after right-wing outrage over past offensive tweets. Now Guardians star Dave Bautista, who plays the big bald alien Drax in the series, has said he will try and get out of his contract for the next film if Gunn's script isn't used.
"Where I'm at right now is that if [Marvel] don't use that script, then I'm going to ask them to release me from my contract, cut me out or recast me," Bautista told ShortList. "I'd be doing James a disservice if I didn't."
In a tweet on Sunday, he said "I will do what Im legally obligated to do but @Guardians without @JamesGunn is not what I signed up for. GOTG w/o @JamesGunn just isn't GOTG. Its also pretty nauseating to work for someone who'd empower a smear campaign by fascists #cybernazis . That's just how I feel."
Actual eighth graders can go see Eighth Grade on Wednesday
Bo Burnham's poignant new coming-of-age movie Eighth Grade, which stars Elsie Fisher as an eighth grader struggling through her last week of middle school, is R-rated, which means that real-life eighth graders can't just go see it on their own.
But the film's distribution company, A24, just announced that Wednesday it will hold nationwide free screenings where the age restrictions won't be enforced, so actual 12- and 13-year-olds can go see an onscreen representation of their lives. Find your local screening here.
Put this on your radar: Better Call Saul
Season four of the Breaking Bad prequel Better Call Saul premiered on Monday night on AMC (so you've got time to catch up before next week's episode). Speaking to Entertainment Weekly in a Monday interview, co-creator Vince Gilligan said this this new season will bring the characters closer to the events of Breaking Bad. "That area of overlap is getting larger and larger," he said. "And in season four, the words are going to collide and merge and commingle even more than they ever have."