Today in Trump's America: All eyes on Midwest in close primary races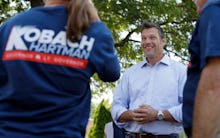 Welcome to Mic's daily read on Donald Trump's America. Want to receive this as a daily email in your inbox? Subscribe here.
Good morning from Emily Singer at Mic.
Check out Mic Dispatch, Mic's new show reporting on the problem-solvers and the provocateurs in our changing world. Subscribe here for alerts on new episodes airing Tuesdays and Thursdays, 8 p.m. Eastern, on Facebook Watch.
Here's what's happening in Trump's America:
• It's primary day in some key states for the 2018 midterm elections, with voters in Kansas, Michigan, Missouri and Washington state heading to the polls to select their nominees.
About last night: Rick Gates admits to committing crimes with Paul Manafort
Fireworks exploded at Paul Manafort's trial Monday when Manafort's former associate Rick Gates testified under oath that the two men committed multiple crimes together, including bank fraud and tax evasion.
"Did you commit crimes with Mr. Manafort?" a prosecutor asked Gates Monday. Gates responded, "Yes."
According to Gates, he and Manafort had 15 foreign accounts that they hid from the government to avoid paying taxes. He also admitted to filing false tax returns in which they under-reported their income and creating fake loans.
Gates testified he committed those crimes "at the direction of Mr. Manafort," according to CNN. The network has reporters inside the Alexandria, Virginia, courtroom.
Gates also testified that he stole hundreds of thousands of dollars from Manafort by filing false expense reports — an admission Manafort's defense team will likely use to discredit Gates in an attempt to pin the crimes on him.
But experts say the prosecution purposefully had Gates, who already pleaded guilty to lesser offenses in February and agreed to testify against Manafort, admit to all of the crimes upfront to weaken the defense's ability to question him in cross-examination.
"The prosecution spent a lot of time walking [through] all of the potential crimes Gates committed with him. This is a typical trial tactic called 'fronting,' where the attorney asks the witness about all of their problems to undercut the other side's cross-examination," tweeted former federal prosecutor Renato Mariotti.
Gates will be questioned by the prosecution again on Tuesday. Then Manafort's defense will cross-examine him, which will be key to determining whether Manafort has any chance of being found innocent by the jury. His defense relies on convincing jurors it was Gates who committed the bank fraud and tax evasion, not Manafort.
Today in Trump's America: Voters are voting!
After a lull in July, primary elections return today, with voters selecting their respective party nominees in some key House, Senate and gubernatorial elections across the country.
Most of the attention will focus on a special election in Ohio's 12th District. Your trusty newsletter author whipped up a rundown of that race, which you can read here.
As for the other contests Tuesday night, here's what to watch:
Kansas governor: GOP Gov. Jeff Colyer is running for re-election in the Sunflower State. He faces a primary from a handful of Republican opponents, including Secretary of State Kris Kobach, who's best known for leading Trump's ill-fated "voter fraud" commission, which turned up no evidence of voter fraud in the 2016 election and was mired in legal trouble until it was ultimately disbanded. A recent ProPublica investigation also found Kobach convinced localities in Kansas to pass anti-immigrant ordinances that were challenged in court and then personally made money by defending those ordinances — earning him comparisons to the swindler Harold Hill from the Music Man. Republicans fear a Kobach nomination could imperil the governor's seat for the GOP in Kansas and implored Trump not to get involved. But Trump didn't listen and endorsed Kobach in a tweet Monday. "He is a fantastic guy who loves his State and our Country - he will be a GREAT Governor and has my full & total Endorsement! Strong on Crime, Border & Military. VOTE TUESDAY!" the president tweeted.
Kansas' 3rd District: Democrats are targeting incumbent GOP Rep. Kevin Yoder in November for this seat, which is rated Lean Republican by the nonpartisan political handicapping outlet Inside Elections. Sen. Bernie Sanders (I-Vt.) and rising Democratic star Alexandria Ocasio-Cortez campaigned in July for Democratic hopeful Brent Welder — who served as a Sanders delegate in 2016 and said he considered voting for Jill Stein over Hillary Clinton in the presidential contest. He faces high school teacher Tom Niermann, who while progressive is running a message to court people who voted for presidential nominee Mitt Romney in 2012 and then Clinton in 2016, according to CNN.
Kansas' 4th District: In this Wichita-based seat, it's Estes vs. Estes. Yes, you read that right, the GOP primary pits Republican Rep. Ron Estes against an aerospace engineer named Ron M. Estes. The names are causing confusion for voters, who don't understand why there are two men with the same name on the ballot, according to BuzzFeed News.
Michigan governor: GOP Gov. Rick Snyder is term-limited in the Wolverine State, and Democrats are favored to pick up his seat in November, according to Inside Elections. Democrats have another primary here that pits the Sanders wing against the party's so-called "establishment wing." Sanders endorsed former Detroit health director Abdul El-Sayed and held a rally for him in Detroit on Aug. 5. Sayed trails in the polls against Gretchen Whitmer, the former state Senate minority leader. A third Democrat, businessman Shri Thanedar, is also running. Thanedar is a controversial character, accused of leaving more than 100 beagles and more than 50 monkeys to die at an animal testing facility he owned when the business went under in 2010.
Michigan's 11th District: This suburban Detroit seat is vacant, thanks to GOP Rep. David Trott's retirement, and it is rated a toss-up contest by Inside Elections. Democrats have a competitive primary here, which includes Fayrouz Saad, who would be the first Muslim woman in Congress if elected. A number of other Democrats are running, including state Rep. Tim Greimel and Suneel Gupta, brother of CNN medical correspondent Sanjay Gupta. The Republican side is also crowded and includes former Rep. Kerry Bentivolio, a reindeer farmer who has made some...colorful ads, to say the least.
And the rest…
Limiting legal immigration: The Trump administration will issue a proposal that would make it more difficult for immigrants who have used social safety net programs to become citizens or obtain green cards, NBC News reported. This includes actions like buying health care through the Affordable Care Act. The move is part of a plan from White House aide Stephen Miller to limit legal immigrants to the U.S.
Huh?: Trump on Monday tried to blame the raging wildfires in California on the state's water laws, much to the bewilderment of experts, who say the fires are the product of climate change drying out the land and have nothing to do with water allocation.